Moose FM sat down with each candidate ahead of the territorial election day on November 23, 2015. Here's what Hay River South's candidates told us.
More: Candidate Q&As from other districts
---
Jane Groenewegen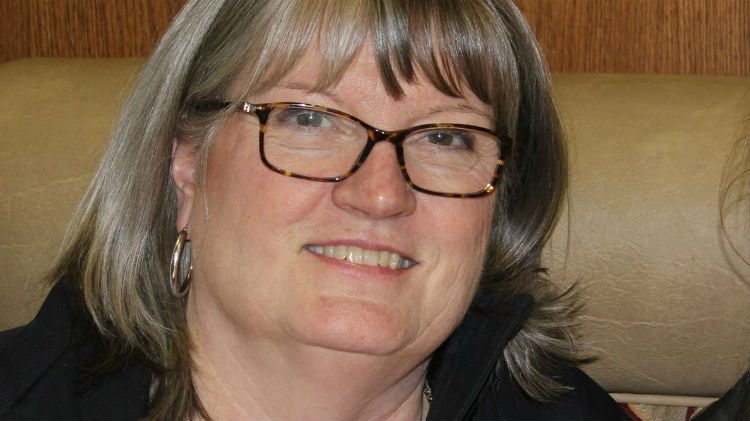 What made you decide to stand for re-election?
It was not a decision that I take lightly, it's a big commitment. At the same time, long-time supporters had asked me to run – people who supported me from the first election in 1995 asked me to consider it. I did take my time, but at the end of the day I said this is a rare opportunity for community service and not something to be passed over lightly. I made the decision based on that.
What message are you going to take out there as you campaign?
The issues do change. There are issues at the front and centre of people's minds and we are talking about a lot of those, and a bit about the past and how Hay River has fared with respect to infrastructure, jobs, programs and services. We're talking about the fact that the finance minister gave the fiscal forecast in the closing days that we may be entering a time of some fiscal restraint. That being the case, it may be about what we get to keep: we've made some good strides and gained some ground in some of the things that have come to Hay River, and we want to make sure that we don't lose that ground. There may be a place for some experience there, and established relationships, because they are talking about taking a good look at how we spend our money. That's not foreign to me – when I was elected in 1995, the first thing we had to do was look at fiscal restraint to address a $150 million deficit left to us. We had to look at all kinds of ways to save money and spend money more efficiently. That's what I would like to see as opposed to any knee-jerk reaction that affects the public service or programs or services.
Last year, the then-mayor of Hay River said the town was "getting screwed", in his words. Is the town being treated unfairly?
I don't think so. I think there was a big issue with the formula funding for communities and he may have been referring to that. There has been positive progress on that front and our mayor at the time had the chance to sit on the committee and look at the formula. If you look at Hay River per capita, if you look at government positions and infrastructure, we've done quite well: $35 million not so long ago for Diamond Jenness High School, $65 million for our new health centre opening soon, and even going back to things like the assisted living facility, that was a $12 million infrastructure cost and an ongoing $3 million per year budget, which has produced quite a few jobs in Hay River. They've moved the business incentive policy office from Yellowknife to Hay River so that was a nice boost. The pipeline office was reprofiled to the petroleum products office and we were able to keep that in Hay River. The shared services office is new. We have had a few setbacks but there have also been some really positive additions. It's not bad.
If you are re-elected, what would be next on your list? What would you fight for next?
Right now, on the books for capital development we have the expansion of Woodland Manor seniors' care facility. We want to make sure that stays on track and goes ahead. Money has been earmarked for a new fish processing plant in Hay River, we want to keep that on the radar. The repurposing of the former Hay River hospital, once the new hospital goes live, should be for something in our community that creates a service but also jobs for the economy. I'm sure these things will proceed in spite of any kind of fiscal restraint.
Some people might think, after 20 years, of looking at alternative candidates. Why is it better to stick with you?
All I can point to is my experience in the legislature, the relationships I have built with colleagues who may be returning and people in government departments. Most importantly, the relationships you build with your constituents. Over 20 years you work with a lot of people in the community and it's an establish relationship: they know you. I consider myself to be very visible in the community, approachable and action-oriented. I try to find creative solutions and help people. If people feel that it's time for a change, that's what elections are all about and other candidates will be putting themselves and their platforms out there. Someone mentioned fixed terms but it really comes down to the choice of the people and I am offering my skills, experience, anything I've learned in those years, to the people of Hay River again. It's up to them, ultimately.
It's been quite a tough year for Hay River, particularly with the strike. What was your view of that labour dispute?
It was unfortunate for the community. I certainly understood the dynamics of it – we saw it every day. I'm disappointed that it could not have been resolved quicker, and I think it hurt the morale of our community and the town workers, but at the same time the council was making its decisions to the best of its ability and knowledge. It was just a standoff that lasted a long time. We can't change it now. We're moving on, we have to be positive and work together for the betterment of our community. But it was a tough summer.
As an MLA, you have to be informed on a wide variety of things, not just those that affect Hay River. Fracking is one of them – what's your position on that?
We have to find a balance. We need the economic development. But the downtown in activity and commodity prices has given us a bit of a moratorium to continue to look at the issue of fracking. There is a lot of information on both sides. We need to find a balance between what we can undertake to produce jobs while at the same time protecting our environment and the sustainability of that activity. That time allows us, and the people in the department and the public, to gather more information on the experience of other jurisdictions. When the economy turns back again, I think we'll be in a better position to manage the regulations and have things proceed in a way that will not hurt the economy. I'm a huge proponent of sustainability, of economic activities that are land-based and do not negatively affect our environment.
The premier has suggested he wants to come back for a second term. That's quite unusual. Do you welcome that or is it time for a change?
Premier McLeod did a very good job as premier. He brought a lot of experience from his years in senior management in the government. He is the premier that brought Devolution to the finish line – lots of others worked on it before him. I'm looking at the roster of people running in this election and I think election night is going to be pretty interesting, pretty exciting. When those decisions are made as the 18th Assembly gets back together, that's something they'll need to think about. Judging by those who retired and those who are coming to the table, we'll have to wait and see how many new faces are there, what premium will be put on experience and what people's thoughts are then. I can't say, now, exactly what I'd do – I don't know what the options are. But in my opinion, Premier McLeod did a good job.
Anything else you'd like to add?
Gender is not a card I have raised over the years but, with the retirement of Wendy Bisaro and some women running this time, I want to remind people that only 10 women have been elected to the legislature in the history of elected government in the NWT. When you look at women as a demographic in the North, it's about a 50-50 split. The more diverse the backgrounds and experiences of members that get elected, the more effective the government is. I'd just throw that out there as a comment.
---
Wally Schumann
What made you decide that now was the time to run?
That's a good question. Timing is everything when you enter a race – and when you decide to leave politics. Ms Groenewegen has represented Hay River probably for the last 20 years. She's won five elections and she runs a strong campaign – she always has, that's why she wins. But looking at the way the future of the territory is going and what's happening in our community, I thought this was a good opportunity to step forward. It's not an easy thing to do. I commend all candidates putting themselves out there and saying they're the next person to represent their community – it isn't an easy thing to do and you have to convince your constituents you're a leader. One of the main reasons I wanted to do it was the lack of prosperity happening our region. Things have declined steadily over the past few years, we've seen social stagnation because of it. NT is suffering quite a bit and they used to be a huge part of our community. It's a great concern of mine. I've been in private business my whole life and we need to pick things up here and re-energize Hay River.
Tell us more about your background and why you believe it's suited to this job.
When I left high school I did one year as a government apprentice, travelling around as an auto body apprentice to the good majority of communities. I went back home to Fort Smith after that and started my own business, which was quite successful. An opportunity came up to move to Hay River and help Kingland Ford with their operation. I've been here for 30 years, I'm deeply grateful to Hay River – I raised my family here, I've grown into my own business here and this is home for me. During the time I've been here, I've been involved in a number of things: sports, becoming vice-president of the Metis and then president of the Metis government council for Hay River, a director on the Hay River chamber of commerce and we've just revitalized the NWT manufacturers' association, being that [Schumann's] Poison Graphics is the largest sign shop in the NWT. We had an association years ago that fell apart and went away – now we're having serious conversations with the GNWT about how to improve manufacturing in the territory.
Looking at your platform, a sentence says: "What we'll do – better jobs, more money, new residents." How do you propose to achieve those things?
The biggest economic advantage we have right now is Brad Mapes' pellet mill. Mining is in a tough spot right now – you see that with De Beers pulling people out of the NWT. On the South Slave, the big opportunity we have is Aurora Pellets. They're close to getting a deal done. It's going to bring a lot of money into our region, it's going to change a lot of things here. I don't think people really realize: it's going to have as big an impact, probably, in our region as mining will in Yellowknife. We've got to help Mr Mapes get over those hurdles and get that thing rolling.
So what would you do as an MLA, that maybe your rivals wouldn't, to help that?
I know Brad well. I've followed the project quite a bit, he's consulted with us, I know where he's at. But there are always hurdles and we need to make sure we're there every step of the way to ensure the GNWT is helping him. Brad has never asked for money from the GNWT and he's sunk every dime of his own to get this where it is, but we need to ensure all departments are working together to help communities get capacity to educate and train people, bring them up to speed. Some of that is going to be with CanNor as well. My role? I can help facilitate, bring all these people together. Sometimes that doesn't happen.
The territorial government has issued a relatively bleak financial forecast. Jane Groenewegen says she's the best choice in those circumstances because she has the experience and the relationships to get the best deal for Hay River in that situation. What's your response to that?
My answer to that is: Jane's been there a long time, yes. She knows a lot of people. Can she get the deals done? I'm not saying she can or she can't but we need a fresh view of the way the territory is going to be run. Fiscally, there will be hard decisions to be made. Going door-to-door I tell people there isn't a whole bunch of money and we'll have to find ways to make efficiencies within each department and the GNWT as a whole. The government is great at creating programs but not good at cutting them so we'll have to have a very hard look moving forward and make some very tough decisions on these things.
What programs might you look at cutting?
For example, ITI. They're good at starting up all kinds of stuff to help small business and I've dealt with them quite a bit. Are some of these initiatives actually productive? Let's take their mentoring program for small businesses. They'll contribute up to $5,000 and you've got to contribute up to 30 percent. How much is that actually being accessed by small businesses? Is it something they really need? Maybe we need to channel that money to support start-ups who need bookkeeping experience, how to file GST, that sort of stuff. Make them more successful. There are probably tons and tons of them. That's just one off the top of my head.
You're also calling for a focus on education. What do you propose that would make a difference in Hay River?
One thing that just came up – and I've met with the French school – is the new court ruling on how that'll affect them. Yellowknife and Hay River have probably the two largest French schools. If the attendance keeps dropping off the way that it's projected, are we going to end up losing that? That's a lot of great people that have moved to Hay River and contribute to our community economically and socially. Families want to send their kids there. I was part of ERI with the Metis. We went through a lot of consultation on how they're going to roll that out. Things need tweaking moving forward. This is like junior kindergarten – do we continue with that? Do we consult with people more? We've got to be willing to do those things. Communication is a huge part of it.
One topic not covered in your plan here is health. How do you feel the territorial government has approached health in the NWT? How would you change that approach?
That's probably the toughest portfolio. It's an issue right across Canada and I think Mr Abernethy's done a great job trying to steer that in the right direction. The issues all roll back to education. I believe education and health need to work together in synergy to try to alleviate some of these problems. A more educated territory-wide population is going to be healthier, more economically sustainable and happier. All these issues are serious but education is a big part of it.
How far do your ambitions extend as a territorial politician? Would you want a cabinet portfolio?
You have to win the election. Jane runs a strong campaign, she's a veteran politician – we need to get over those obstacles. If we win, I'm seriously considering putting my name forward for cabinet, following my experience in small business and with the Metis – four years with them is what drove me into politics, I learned one person can make a huge difference. I've dealt with all levels of government and you get a lot of experience, it's like an apprenticeship, almost. I believe I'd have lots to offer.
What can you achieve for the Metis, if you had this role?
I know all the issues. Now Michael McLeod is MP for the territory that's possibly going to help quite a bit. Territorially, I can bring the issues to members of the assembly and help them push it forward internally.
---
Brian Willows
Tell us about yourself and why you decided to run.
I've been in the NWT for 40-plus years. I've made my home in Hay River here for the last 15 years and lived here once before – I've also lived in Yellowknife, Fort Smith and Inuvik so I've got a good understanding of the North. Before retiring I was the chief operating officer for NTPC. I have a strong belief in public service and it seems now is the perfect time to give back to my community and to the North.
Who better than you to talk to about power solutions. What should the NWT do, given the urgency of this situation, to make the cost of power cheaper?
That's a good and complicated question. Here in Hay River we're paying the highest rates in the North and in Canada? We all own the NTPC but we don't get the benefit of that here – our neighbours are paying at least 30 percent less, and the government has a role to play there. The government has had two energy charrettes over the past five years and there's been no real action of any kind on that file at all. We have a place for green solutions in the mix and we'd like to see a lot more work on that. Here in the South Slave we have a pellet mill that hopefully will be coming on shortly. Solar energy I think is now completely viable for homeowners. But we need more government support and subsidies. For 20 years or so, here, we had many megawatts of power just going over the dam at Taltson – the government has talked for years about this. There's no reason why that excess power couldn't be coming to places like Hay River at a reduced rate for business and government to provide heat. It's a matter of getting the will to do something about it.
Given your experience in the industry, people might look to you. What would be the very first thing you'd do?
Some of the outgoing members have stated a priority must be an energy strategy. I would love to be part of that. I certainly have the background and some decisions at the Taltson system need to be made almost immediately. I've made the commitment to work hand-in-hand with our municipal government in Hay River to find solutions. Hay River is looking at its franchise but it's going to require territorial support no matter who the supplier is.
In all of this discussion is the territory's financial situation. The cost of living is a big issue for all residents. Your opponent, Jane Groenewegen, says she's the best choice because she has the experience and relationships to get the best deal for Hay River when the money dries up. What would you say to that?
I would respectfully disagree. As you say, she has been one of the longest-serving members and yet we find ourselves in this state, both in this community and in the North at large. We need fresh ideas and leadership to tackle some of the very serious issues facing us. I'm not saying anything unique. All these things mean outmigration and we saw the effects of that with De Beers deciding it wants to head south.
The cost of living is this big, all-encompassing factor. Away from power, what other measures do you think could provide some short-term relief?
There is some low-hanging fruit that the government could deal with quickly. When it comes to small business, my understanding is businesses are taxed 15 percent on the first $500,000. Most western provinces are trying to move that down by a percent or two. If you lower that, it'd be almost insignificant to the amount of money going to the government but would be quite significant to the business owner. We've also been talking to the feds for a long time to get breaks on taxes. To date, the government doesn't seem to have an appetite for that – but it seems to me it's a quick and potentially easy fix.
There are a wide range of social issues on the table for incoming MLAs and a wide range of solutions. If you were elected, of all the solutions available to you, what would be your priority?
The government has signalled there is going to be less money for services. That said, a hot-button issue in Hay River for me is the fact that right across the river, we have a treatment centre closed down by the government. Nobody has given the exact reason for it and I'm not going to stand here and point fingers. But from a legacy point if view, it seems shameful to me that the government cannot support an alcohol and treatment centre anywhere in the NWT. We don't have before-care or after-care. I have met with Chief Fabian and they are more than willing to reopen the centre but they need support and help from our government. That's one of the top three issues for me.
The health minister would say that centre was closed because it couldn't attract the high-quality staff needed to provide the level of service offered farther south – and the treatment down south, despite what may be perceived as an extra cost, was of a higher standard. That's a consideration, isn't it?
That's the tack that the government has taken – not necessarily one I believe, nor the people who ran the facility at one point. At one point, the facility had a 43 percent success rate, which is pretty stellar in that particular field. I recognize problem developed, but it doesn't seem to be a solution that you simply shut it down and abandon it. Imagine you're coming from one of our smaller communities or even a larger one, you're sent out to treatment down south, you have no family support or after-care. I don't know. To me it's not sounding like a great solution.
There are a number of vacancies in health and education in the North. Attracting staff is an issue. How would you go about making the territory more attractive? Is it as simple as paying staff more?
That's certainly a component of it. The more important component is to tackle the issues of taxation and the cost of living. Going back to the example I just gave – when De Beers says it's pulling out of Yellowknife because of the cost of living, that's a signal we all have to recognize. If we don't deal with these issues, we're going to continue to have problem attracting professionals North.
What was your view of the Hay River labour dispute this year?
It went on far too long. We have a new mayor and council now – they have committed to working and trying to heal the wounds. I'm confident those things will be sorted out. The town is just like any other business, per se – its margins are thin, there's only so much movement you can make. This brings us right back to cost of living issues in the North. As people leave, we're collecting less tax dollars and there's less money for salaries and wages. It's a complicated issue but one that can be solved if we get a government that deals with issues that, for whatever reason, have not been dealt with in the last legislature.
Some candidates and voters are calling for more government transparency. How is that something you would support if elected?
I would love to see some consensus government reform. Openness and transparency is a huge issue and has been with this last government. All of a sudden, these multi-hundred-million-dollar projects pop out of nowhere towards the end of a government. I'm not suggesting those projects don't need to be done but there's no public consultation and on some level, there doesn't even seem to be consultation with the regular MLAs. I'd like the next government to lead by example. If we're short of funds and services, I propose a salary and benefit freeze for the duration of the next government for MLAs. I don't think party politics is coming to the North any time soon so we must take what we have and try to improve it.
On the issue of fracking, many people called for a plebiscite. Should that have gone ahead?
Absolutely, and whoever forms the next government has an opportunity here to go back out, educate and consult with the public, and let them have a say. There are opinions on both sides so let the constituents of the North have a say. I'm favour of that process going forward.
What else do you feel is important, and what sets you apart?
I've made a commitment to be a leader for our community. I have experience leading a complicated organization and I'm committed to working every day with constituents here and focusing on that. I'm committed to working with our mayor and town council – those relationships have been lacking in the past – so we can work together collaboratively to bring the best results not only for Hay River, but for the South Slave and the North itself.