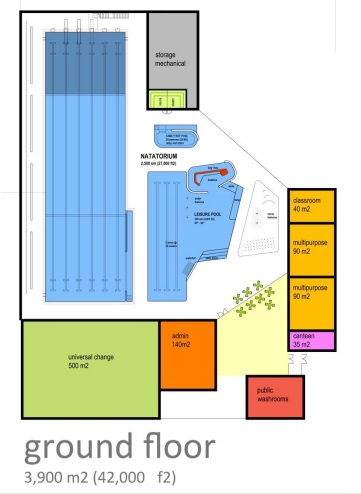 Yellowknife now has a more clear picture of what a new community pool could look like. The proposed pool would be a 52 metre rectangular tank lap pool with 6 lanes that could accommodate swimming lessons, lane swimming and competitions.
The pool would be deep enough to fit synchronized swimming and scuba diving lessons. It would also have springboards at heights of one metre and three metres.
The subject of a new pool has been a topic of discussion for the City of Yellowknife for some time, and it came up during the mayoral and councillor election forums. This is due to Ruth Inch Memorial Pool reaching the end of its 30 year lifespan.
The Aquatic Centre Advisory Committee has been looking into the possibility of a new aquatic centre, including the different options for a change room, pool tanks, water features, and spaces. It also spoke with residents to see how often they use Ruth Inch Memorial Pool, of which 77 per cent of those surveyed said their family uses it and how satisfied they are with their current pool.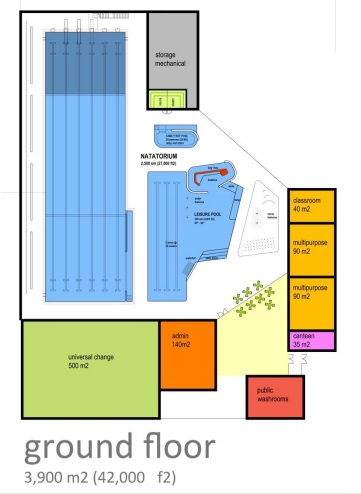 The aquatic centre would have a leisure pool with three 25 metre lanes of warm water, which will be available for toddlers. That pool would have zero depth entry and play and spray features including a slide, a lazy river and a splash deck.
The lobby would be at the building's entrance and would be the access control point. It would also have some viewing of the leisure pool. There would be a spectator area for the 52-metre pool for viewing swimming lessons of family members.
The design has a hot tub to be used by people who use the 52-metre pool or the leisure pool as well as a steam room for therapeutic and recreational purposes. A canteen area would provide food service with a limited selection of items.
Change rooms have a universal design for men and women. They will be larger and more improved from the current change rooms at Ruth Inch Memorial Pool.
The aquatic centre would have multipurpose rooms for courses, dryland warm-ups or birthday parties. Office space and storage for youth groups, staff areas including administration spaces, a staff room, a first aid room, and a facility access point are also in the designs.
Based on the current design, the construction of the building would cost an estimated $36.1 million with a site development allowance of $1.4 million. With soft costs and escalation, it is estimated to reach $49.8 million. It is estimated to have an annual operating subsidy of $3.2 million.
Two locations have been recommended. One would be near the fieldhouse and multiplex, and the other would be near the current pool. The recommendation from the committee is to do further geotechnical studies to make sure the ground in those areas could support the proposed aquatic centre.
Mayor-Elect Rebecca Alty has been on council for two terms now and has seen the project unfold so far. She says council will have to digest the information to fit the current and future needs of the community.
"The next step will be going to the architectural and engineering phase. So that will be the new council that will either approve that or not in the budget 2019 and in that phase, that will be when we get into the details."
Alty points out operating costs in particular as something that should be investigated further to try to lower the costs.
"One of the things I really want to see in the next phase is to get the operating and maintenance costs down for the new pool and to make sure that it is being built as energy efficient as possible because that is one of the top costs to maintain is the utilities."
The federal government has committed $12.9 million towards the project so far. But the Mayor-Elect says there are other funding paths that can be pursued.
"So it will be looking to see if there is any other funding we can go for, so if there is anything at the GNWT level, particularly with the energy efficiency bills. Will there be funding available at other levels of government? And the idea of sponsorships also came forward. How much will it cost to get naming rights for the facility could be something the next council looks at."
Alty says council will also need to decide what should be done with the old pool building. The report from the Aquatic Centre Advisory Committee has a few suggestions based on what other communities have done with their old pools.
"One place turned into a gymnastics club, another one was turned into an arts and crafts incubation area, and another into a skateboard park, so there's a few ideas," explains Alty. "What we'll also have to take into consideration is that we are getting close to our debt limit. If we have the new pool being built as well as the water in-take line, how much money is left over to renovate the old pool."
With the new council taking over in the next few days, we will soon see what their initial thoughts are on the pool proposals.