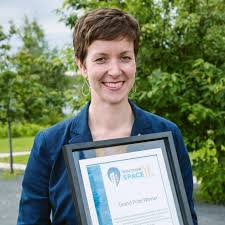 Mary Kelly, the Grand Prize Winner of the 2018 edition of Win Your Space YK, is officially opening her business Music Space in downtown Yellowknife.
The grand opening event, a Musical Tea Party, is planned for Sunday, January 27th from 2 p.m. to 4 p.m. on the lower level of the Graham Bromley Building (5016 – 50th Avenue). Kelly says the event is open to the public and light snacks, tea and coffee will be provided.
"I would like to invite everyone to join us to celebrate the official launch of Music Space, or to stop by on Thursdays and Fridays in February between 1 and 5 P.M. to see our new space."
Kelly moved her business into the downtown space shortly after winning the Win Your Space YK Grand Finale to teach music lessons. Music Space is the third new business to open up in downtown Yellowknife from the 2018 edition of Win Your Space YK.
In October of last year, The Farmhouse by Kerri's Kreations which is operated by Kerri Nolting opened on the lower level of the YK Centre Mall as well as Marilyn McGurrans business Longarm of the North which opened in the 50-50 Mini Mall.
Mayor Rebecca Alty says that in just two years, five businesses have opened storefront locations as a result of Win Your Space YK.
"We are thrilled to add a business and community space like Mary Kelly's Music Space to our downtown."
Win Your Space YK is a business competition aimed at inspiring Yellowknifers to start or expand their business, providing access to useful network connections and resources, as well as revitalizing the downtown area.