As the UNW/PSAC strike continues on, many businesses have turned to alternative workers to take city services into their own hands.
Amid the strike, 'non-essential snow and ice clearing activity' has been suspended in the absence of city workers however, unlikely citizens from Yellowknife have stepped up to clear sidewalks as a way to help out.
"It's great for us!" One worker said.
"We're homeless, and we've been taking these contracts to get outside and stay busy. We started doing this yesterday just to help out and do the right thing." He added.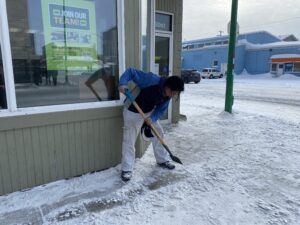 As the strike continues, small business owners have also started feeling the effects.
"We've started seeing a bit less people than usual, some regulars aren't coming in as much." Birchwood Coffee Ko Owner Jawan Scott told MyTrueNorthNow.
MyTrueNorthNow has reached out to both the UNW/PSAC and City of Yellowknife's communications teams however, both sides are on a media blackout.