On November 11th, Yellowknife joined in with the rest of the country in celebrating the lives, deeds, and sacrifices Canada's soldiers for Remembrance Day.
Firstly, RCMP, Cadets, and other service members took part in a parade around the city's downtown core which started next to City Hall and the RCMP Headquarters. The parade was also paired with a wreath laying ceremony at the Yellowknife Cenotaph.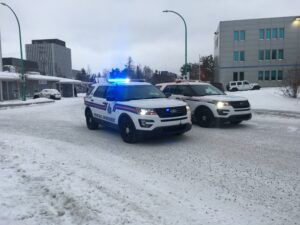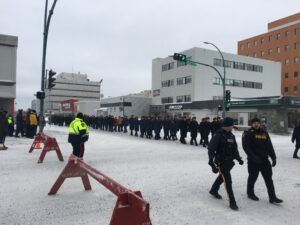 Afterwards, a full Remembrance Day service was held at St. Patrick's High School. Attendees were treated to all of the standard November 11th ceremonies, as well as two performances by the Aurora Chorealis and Fireweed Children's Chorus.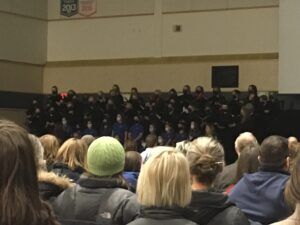 The service also shared the story of Operation: Jubilee.
During the Second World War, on 19 August 1942, the Allies launched a major raid on the French coastal port of Dieppe. Operation Jubilee was the first Canadian Army engagement in the European theatre of the war, designed to test the Allies' ability to launch amphibious assaults against Adolf Hitler's "Fortress Europe." The raid was a disaster: More than 900 Canadian soldiers were killed, and thousands more were wounded and taken prisoner. Despite the bloodshed, the raid provided valuable lessons for subsequent Allied amphibious assaults on Africa, Italy and Normandy.
The service ended with a performance of the now revised song, "God Save the King."