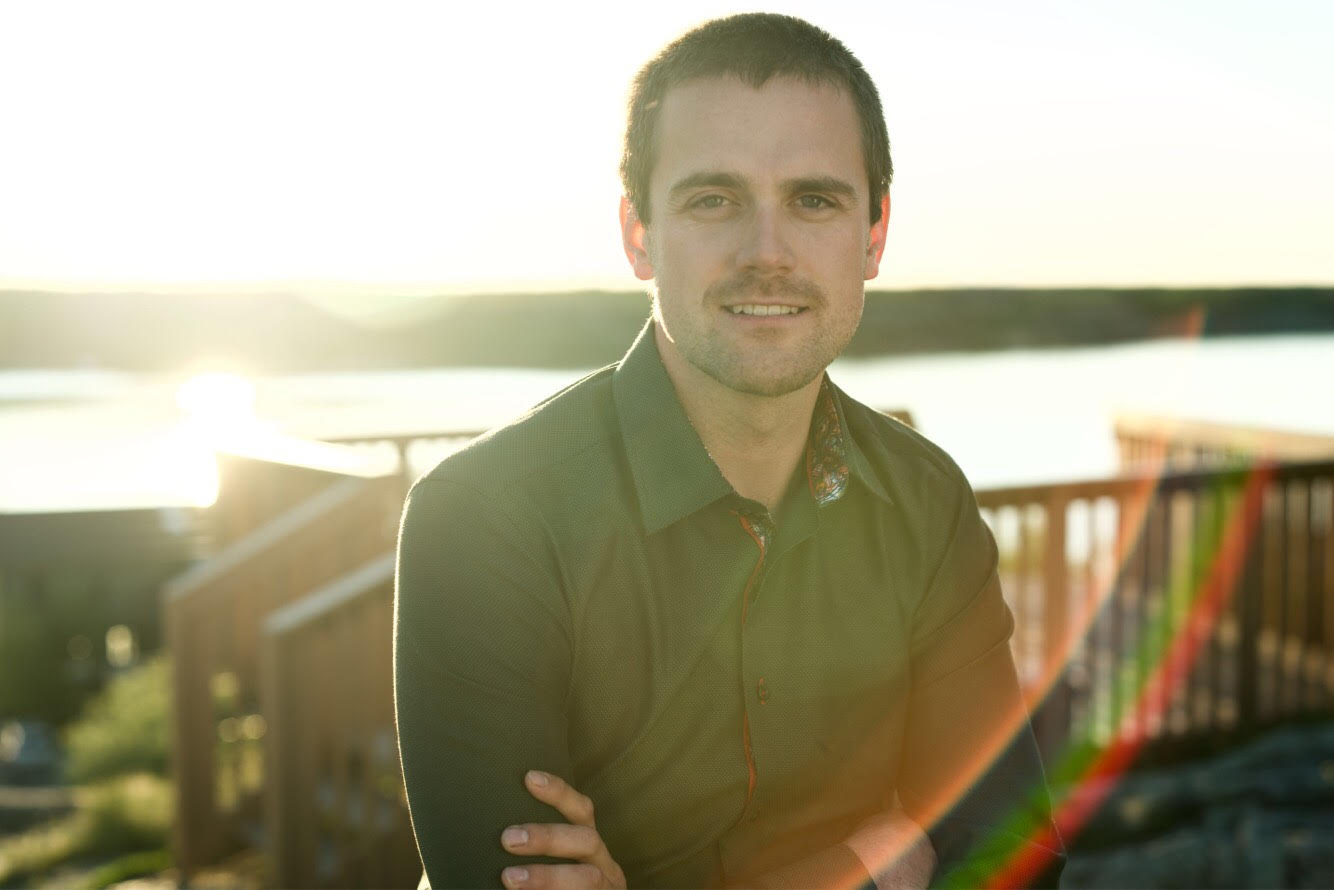 A 28-year-old Yellowknife lawyer, entrepreneur and founding member of Makerspace YK is running for the position of Yellowknife North MLA.
Rylund Johnson is a political newcomer and part of what he calls a 'millenial green wave new movement that wants to address this increasing political apathy.' Johnson decided to run as he was feeling uninspired by political leadership across the spectrum, including the GNWT who have been focused on '(building) roads to support resource extraction.' "That's not a vision people can get behind."
Johnson is a lawyer, most recently working as a senior advisor for the GNWT's  Department of Environment and Natural Resources. He is also a houseboater in the Yellowknife North riding, on Yellowknife Bay. With his age and his ideas for the government, Johnson wants to inspire young NWTers to get involved in politics. One solution could be to open up online voting. "If I want to vote in Tsiigehtchic I can do that online now, so I think the GNWT needs to catch up…I think that will increase youth engagement." Thinking long-term on climate change policy is another way to energize young voters.
Johnson has yet to formulate a platform, something he says he will do after conversations with constituents over the summer. In his announcement to run he noted five 'themes' that form his vision as a political candidate: 'reducing the harm caused to our most vulnerable, equality of opportunity, diversifying the economy, removing barriers to investment and northern unity.'
Rather than looking south for solutions to Northern problems, Johnson says the NWT should be looking to its neighbouring territories and across the circumpolar North for answers. Johnson sees a polytechnic university in Yellowknife as a hub for this kind of knowledge and climate change research. "We could bring policy researchers and scientists from across the circumpolar world. There's a lot of potential to make Yellowknife a hub of policy research and seeing what works for the North."
Johnson says there has been a lack of effort on the part of the GNWT to diversify the economy, something he says could be accomplished by increasing immigration – both people and business – to the territory. "There are a lot of federal programs we don't take advantage of. I think Yellowknife could be advertised as a place for remote workers to come to, a place for refugees to come to when they come into Canada."
Building a green economy and retrofitting buildings is crucial to a diversified economy, Johnson says. A member of the Green Party of Canada, he voiced his opposition to offshore drilling and fracking in Canada's North in an interview with the Yellowknifer. This does not mean he is opposed to mining in the territory he clarifies, an industry which can be operated with a low carbon footprint.
"Mining, at the end of the day, is very much an industry that the NWT needs and should support," he says. "I think this idea that mining has to be bad for the environment just isn't true anymore. A lot of our mines are operating on some of the best environmental practices that are available and we as the North can continue to support them to adopt best available technologies and the safest environmental practices."
Streamlining the territory's regulatory processes is on Johnson's mind, both in the mining industry and for local business. In Yellowknife North, the NWT Brewing Company is legendary for the amount of bureaucratic hurdles the company has had to overcome to become the territory's only brewery. Johnson says it is a 'perfect picture' of what's wrong with the NWT's regulatory system.
Creativity and entrepreneurship needs to be encouraged, Johnson says, not least in his own neighbourhood where an abundance of creative people and entrepreneurs reside. Tourism could be a major hub of this local economy. "The GNWT really needs to step up and get behind tourism infrastructure and get behind removing barriers for a lot of our tourism operators."
Johnson also expressed his support for universal childcare in the NWT as he is witnessing many people struggling to find childcare or get back into the workforce after having children because of this shortage.
The territorial election takes place October 1st. Several new candidates and sitting MLAs have announced their intentions to run, read more below:
READ MORE:
Yellowknife Centre MLA Julie Green seeking a second term
Kevin O'Reilly running for re-election in Frame Lake riding
Yk lawyer to run in fall election for Yellowknife South
Lesa Semmler to run for Inuvik-Twin Lakes seat