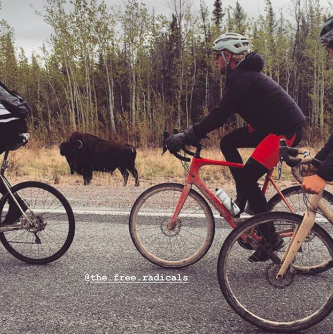 After riding over 2,000 kilometres on road bikes from Whistler, B.C. to Yellowknife, a group of riders are being celebrated for their feat.
The idea to ride thousands of kilometres and suffer 'flat tires, rain, sleet, smoke, forest fires and road closures' began over a pint in Whistler. Quinn Lanzon pitched the idea of riding back to the town he was born in to Will Cadham. The idea quickly spread to friends who grew up in the mountain biking culture of Camp Fortune, Quebec.
"It's important to note that only one of the nine riders actually owned a road bike upon joining the ride," the Ride of Your Life website states. "But we're all mountain bikers, road biking has got to be super easy. Right?"
The crew who began the journey on May 25th includes Alex Conlon, Jamie Blades, Mark Taylor, Matt Tirrell, Will Cadham, Quinn Lanzon, Huw Thomas, Dave Kenworthy, and Braedyn Kozman. Cinematographer Graeme Meiklejohn tagged along in his Honda Element to capture the ride. They arrived in Yellowknife June 4th.
The crew have not only been having the ride of their lives, but also raising money for the creation of a bike park in Yellowknife. They've raised over $5,000 for this project. Both the donation itself and the awareness the riders are bringing to the bike park are significant says president of Yellowknife Mountain Bike Club Geoff Foster.
"It's a meaningful contribution for sure," Foster says. "It means a lot to us, it means a lot to our construction schedule in trying to get something built this year." Graeme Meiklejohn's filming of the ride might even make it to the Banff Film Festival, bringing awareness of the project to new heights.
The riders heard about Operation Bike Park from the Rotary Club of Yellowknife, who were one of the first donors to the project with $50,000.
Foster says the club is finalizing designs for the park and construction is set to start this summer. The goal is to get the pump track put in this summer. The club is still looking for donations of gravel and monetary donations which could drastically reduce the cost of construction. The total cost of the park will be around $500,000.