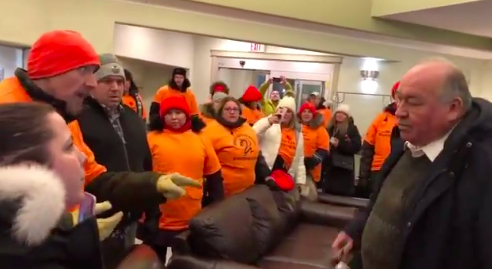 Sean Dalton is alleging the NWT Premier backed into him with his truck twice as a group of people wearing orange Union of Northern Workers t-shirts walked back and forth in front of his truck in protest.
Dalton is the Union of Northern Workers' Regional Vice President of North Great Slave and a constituent of McLeod's Yellowknife South riding. He was one of around 30 people who showed up to McLeod's Tuesday evening constituency meeting in Yellowknife.
READ MORE: UNW MEMBERS CONFRONT PREMIER MCLEOD TUESDAY NIGHT
When McLeod left the meeting, Dalton says members of the group followed him outside and walked back and forth behind his vehicle.
"We were more or less, like you would, picketing outside his vehicle. Which we can impede a vehicle for up to three minutes. When he tried to back out, he intentionally backed into myself and he did that two times."
Yellowknife RCMP confirm they received a report of an 'alleged incident involving a vehicle and a person in a parking lot location' Tuesday evening. No injuries were reported. An investigation is ongoing media spokesperson Marie York-Condon confirmed.
Dalton says he wasn't hurt but that the Premier's vehicle did nudge him twice and he says it was intentional.
"It wasn't high speed or anything, it was very slow and he nudged me. But you can't push a person with your vehicle," he says. "Is that the example he wants to show, that if there's a picket line or anyone protesting, that you just drive your vehicle through them?"
With mediation set for this weekend, Premier Bob McLeod says in a statement there is no need 'to circumvent the established bargaining process and call for direct political intervention.'
"Legal strike action is not yet in effect. The conduct in the parking lot outside my constituency meeting last night was not part of a lawful picket. We expect the union leadership will ensure their members understand their rights and their responsibilities."
Director of Finance and Administration with the union Kim Bailey says the gathering Tuesday evening was not something sanctioned or organized by the union.
As for the statement by Dalton about impeding a vehicle for three minutes, Bailey says she is uncertain about where this information came from. When asked if the union has a comment on the incident she says they do not.
McLeod acknowledges tensions are likely to be high around a potential strike, but added he expects the union and its membership to 'respect elected officials, and that the same respect will be given to members and union officials.'
McLeod says his government remains fully committed to a negotiated agreement with the union. Mediation is set for Friday and Saturday.
READ MORE: UNION WORKERS WILL STRIKE AT 00:01 MONDAY, IF NO PROGRESS REACHED
If no agreement is reached this weekend, 4,000 government and power corporation workers will go on strike at one minute past midnight Monday morning, according to union president Todd Parsons.