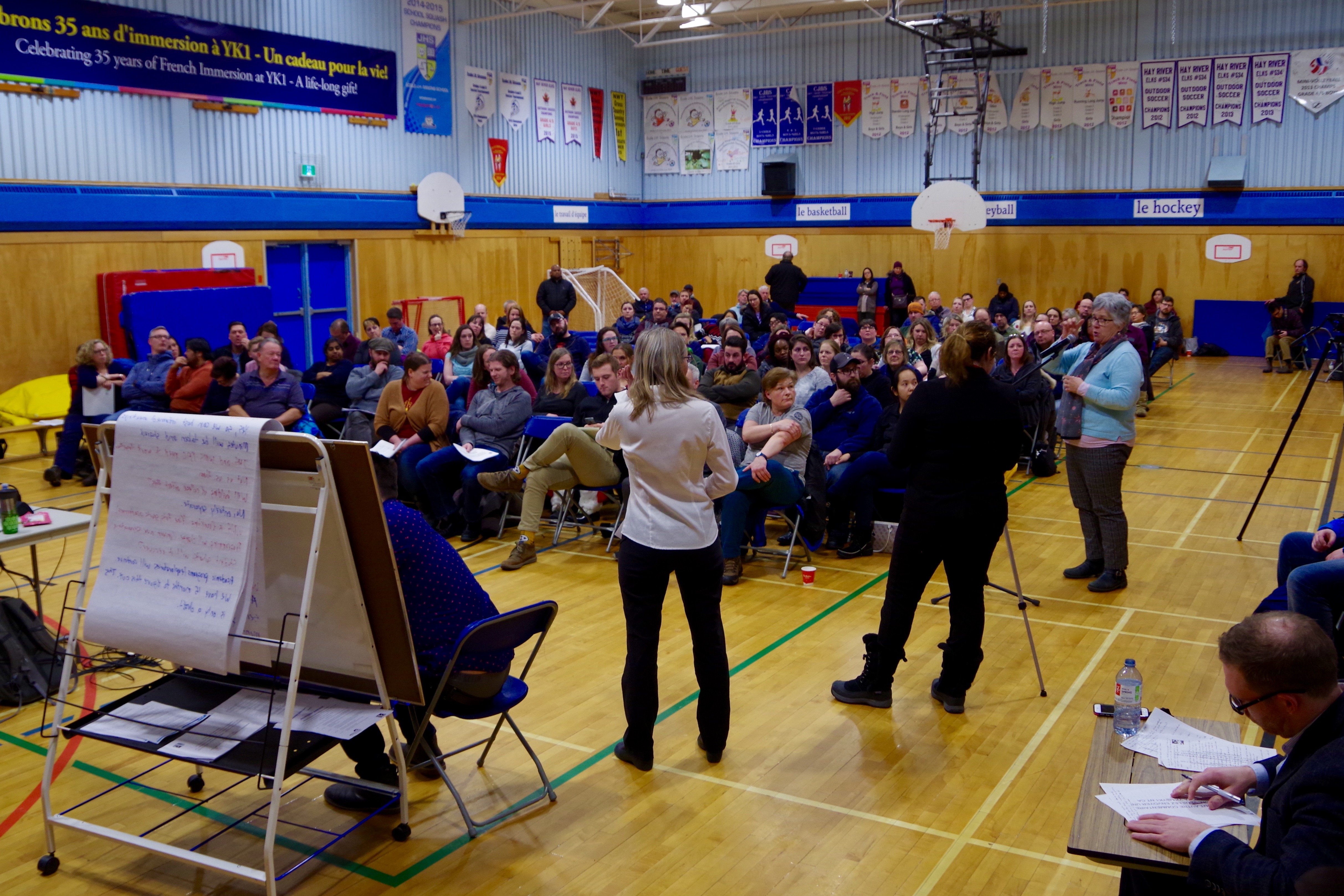 Many parents say they are concerned about plans to rebuild J.H. Sissons School. Speaking at a town hall meeting, they voiced worries about how moving 350 students will affect their safety, their emotional health and the programming schools offer.
Parents and community members packed the school's gym to hear the Department of Education, Culture and Employment's plans to rebuild the 44-year-old school. Construction is planned to start fall 2020 on the location where the school now sits, wrapping up by August 2022.
The government's case for building where the school sits now is based on a geotechnical report which found a high water table and other indicators of water on school grounds. As a result, the education department say the safest place to build the school is where it is currently.
Builders present at the meeting disagree. Both Trevor Kasteel of Kasteel Konstruction Inc. and Allan Shortt with Clark Builders say piling technology is good enough to build the school elsewhere on the 5700 51A Avenue property. The audience applauded after Shortt spoke.
Superintendent of Yellowknife Education District 1 Metro Huculak stresses the draft plan for where students will be moved will likely change after consultation with parents in the spring. He adds he is aware of the main concerns of parents, keeping their students together.
Student Accommodation Plan English
"This school is very family oriented so I think it's important to try as much as possible to keep this group together if we can."
William McDonald Middle School is another focus of parent's concerns, as the draft plan dictates Sissons students will move there as a group. Several speakers say they're unsure about how sports, home economics, finance and other programs would be affected by the move.
Parent and co-chair of the J.H. Sissons parent advisory council Katherine Harris says she wants the government to look at other options before forcing the relocation of 300 students.
"The building solely on this site needs to be revisited because there are so many other costs that I just don't think have been fully considered."
Wendy Campeau, a parent of two children at Sissons, says how moving Sissons students to William McDonald will affect that school's programs needs to be considered.
"By the end of the construction my son should be going to middle school. He would be the first group back in to middle school. So I want there to be a middle school program when this is all said and done. So for me, I'm still not sold on rebuilding on this site."
The education ministry promises to make the geotechnical report public and Huculak says he will send out the draft accommodation plan ahead of spring consultations with parents.