Edmonton's Stollery Children's Hospital took a trip to Yellowknife today alongside their Children's Miracle Network Champion Child, Elijah.
Walmart has raised more than $12 million since 1994 for Stollery and $148 thousand in the Territories alone.
Since 2022, Stollery has served over 500 patients from the Northwest Territories and 293 from Yellowknife specifically.
Elijah and his moms shared their story of struggle and hardship to how they overcame adversity.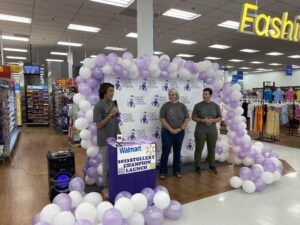 "Your donations changed his (Elijah's) life, and you continue to change people's lives so thank you so much." Elijah's mom Traci tearfully said.
Elijah was born several weeks early with a congenital heart defect and has been in and out of Stollery since he was eight months old.
Since his last surgery at age 12, Elijah is now 14, healthy, and has returned to the sports he loves, like hockey and football.
"When I had to stop playing, it was hard because those were my favorite sports and I would wake up every day and be excited to be playing them and when they told me I couldn't I was very sad," Elijah told MyTrueNorthNow.
Walmart Yellowknife donated a $500 gift card to Elijah and his family, but he chose to donate it to the Children's Miracle Network, the organization that gave Stollery the resources required for his surgeries.
"The Stollery is probably one of the best experiences I've had because they are so nice and they know what they're doing," Elijah said.