World-renowned Yellowknife attraction Snowking's Ice Castle festivities came to an end today with a story reading, dance performance, and live music.
"Every year is great and fantastic, everyone is welcome to come again and have fun next year too." Visitor Centre attendant Amoena Hollasky told MyTrueNorthNow.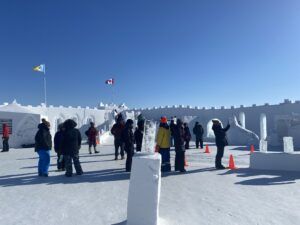 Northwords NWT featured readings from two local authors. 19-year-old Nikolai Delff read from his 'Bear and Ivory' picture book and Lana de Bastiani read from her book 'Nick the Northern Special.'
Local dance troupe 'Bella Beats' performed and according to attendees, put on quite the show. The group has performed all over North America and today's show was their 11th time at the festival.
"Those young ladies, they can dance somethin' else, and they always draw a huge crowd," Snowking told MyTrueNorthNow.
Yellowknife's own 'Baby Brian and the Rat Lake Social Club' finished up the day with a special live music performance on the ice stage and drew a nice crowd of their own.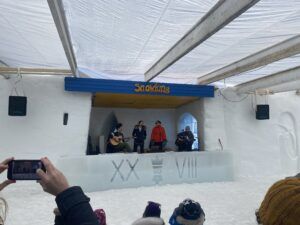 Snowking also spoke on next year's plans for the castle and his majesty says he plans to keep his promise of changing things up every year.
"Next year we're gonna try something new, we're going to build with snow and ice, and we're still going to call it a snow castle so that's what's new." Snowking sarcastically said.
"A few children said we should bring the maze back, now we can't do everything, but we'll try to get some maze going on next year… you'll be amazed," Snowking added.