Canadian North held a special ceremony on Monday, February 14th celebrating their inaugural flight to Calgary.
CEO Michael Rodyniuk was among multiple speakers who discussed the importance of connecting the north to the rest of the country and how flights like Yellowknife to Calgary are integral to the City's 20-year tourism mission.
"There was a void in connecting Yellowknife to the south, our focus is on the north so we want to connect the north to the south and the rest of the world for that matter," Rodyniuk told My True North Now.
The airline primarily focuses on air travel between hamlets and towns in northern Canada. Rodyniuk says that Yellowknife is a key market for connecting smaller, more isolated communities with the rest of Canada.
"Yellowknife is pivotal because it is an essential hub for us and we put a lot of our activity through Yellowknife and connecting up north," Rodinyuk added.
Many attendees took notice of the map that stood behind the podium focused on the north, unlike a traditional map where the north is draped over and un-acknowledged, the map at the event focused on the north which Rodinyuk says was on purpose to emphasize the unique travel needs of the north.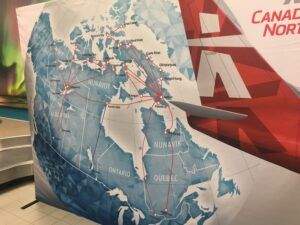 Rodyniuk says that this expansion is just one of many coming in the future for his airline and talks about spreading to the east coast and even potential international flights have taken place with airports and officials.
"We've signed a memorandum of understanding with the government of Greenland and we have a partnership developing with Air Greenland and we'll start to connect people to places like Nuuk and Ilulissat," Rodyniuk says.