The Bus has been Stuffed once again!
400 bags of food were packaged at the Yellowknife Co-op on thursday night, and by 4:30 on Saturday, 400 bags were sold at the Stuff the Bus Food Drive!
As hundreds of Yellowknifers passed through the local grocery store for their usual business, a great many of them pitched in a little extra money to give some aid to the YK Food Bank in their busiest time of the year. Most people bought just a single bag, others bought two or three, and those who could spare the cost would buy five bags and beyond!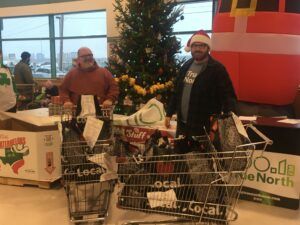 A few helpful volunteers from St. Patrick High School were stationed by the front door to offer hampers to customers as they entered. Meanwhile, the TrueNorthFM Team was set up by the exit to collect the hampers as the customers went on their way. The collection bin would routinely be emptied as the bags made their way to the waiting bus.
Alex, one of the St. Pats students, was on his second year of working with Stuff the Bus, and explained that he enjoyed helping out with the event, and loved the intent of giving back to the community.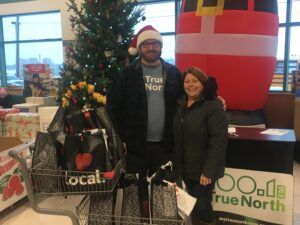 Time and time again, Yellowknife proves itself to be a community that always looks out for its most vulnerable members, and 2022's Stuff the Bus Food Drive is just the latest example of that phenomena.
Here's to another successful event in 2023!