Four NWT communities are about to receive some brand new medical equipment.
The Stanton Territorial Hospital foundation has just received a donation of $45,000 from the Sandra Schmirler Foundation, and is sending it to the communities of Fort Simpson, Norman Wells, Fort Providence, and Fort Resolution. The money will be put towards the purchase of new Resuscitaire Radiant Warmers.
These devices are able to assist in child delivery procedures, and while a few of these communities already had some available for use, Ms. Georgina Veldhorst, Chief Operating Officer, Stanton Territorial Hospital said, "Given this equipment is used for emergency situations, it is important to have the best equipment possible in our communities."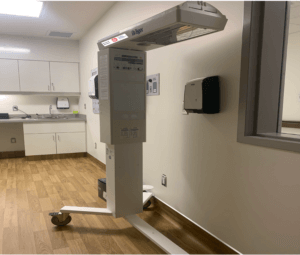 The new Radiant Warmers will be able to pre-warm the bassinet, which will allow limited nursing staff to provide better assistance to both the mother and the newborn. The materials required to operate these devices, as well as the expertise, are readily available in the NWT, as the Resuscitaire Radiant Warmer is one of the standardized models being deployed in some of the birthing centres. These machines help aid in the recovery and proper care of children who may have been born too soon, too small, or too sick.
Bernadette McIntyre, Chair of the Sandra Schmirler Foundation board, said "The reason we exist is to honour Sandra's legacy and to remember her by raising funds to donate to hospitals. This grant to Stanton Territorial Hospital Foundation is the best part of what we do! In total we have granted $95,000 for lifesaving neo-natal equipment in the Northwest Territories. It's very rewarding for us to be able to support the purchase of this crucial piece of equipment."