The NWT YWCA has sounded the alarm about the lack of affordable housing in Yellowknife and elsewhere in the territory.
Hawa Dumbaya-Sesay executive director of the YWCA NWT, says there is a lack of affordable housing in Yellowknife and other communities throughout the NWT, and the onus should be on the territorial government to build more — something Dumbaya-Sesay says there has been little progress on.
Dumbaya-Sesay says this is especially the case for young people and families, a portion of the homeless population which is not getting the attention it deserves.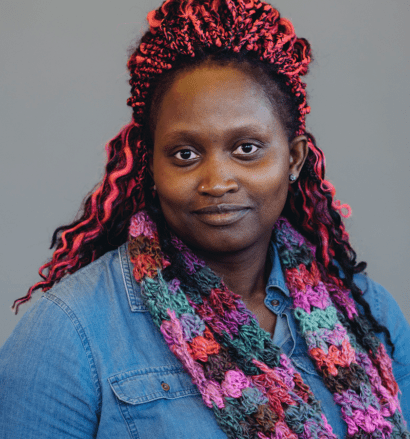 "Families, you find them either sleeping on people's couches, or seen in abusive relationships, just because that can help them to maintain some form of stability for their kids, some form of housing for their kids," she said.
There are a number of non-governmental organizations in Yellowknife who provide shelter and housing, but YWCA is the only one who houses families, and they have seen significant demand build up.
Around 50 families are on the waitlist for housing just with the YWCA.
Normally, the YWCA tries and sets families up for housing in their own facility, or will provide rental support for families who are struggling to pay, sometimes taking over the lease.
This situation is far from ideal, and creates a "huge liability" for the organization, Dumbaya-Sesay says.
"If we don't have funding to subsidize their rent, then we are on the hook for that money — it's really tricky to take on those leases," she said. "But that's where we're at this point, where we have to step in and do those, or else we'll have many people that will go without housing."
Paulie Chinna, the minister for housing and homelessness with the GNWT, says finding funding to build more housing is a problem for the GNWT as well.
"We need more funding in the Northwest Territories to get houses being built and constructed here in new territory," said Chinna. "We've also engaged in those partnerships to help us to work towards achieving that goal."
Premier Caroline Cochrane had previously called on the federal government to provide the GNWT double the funding other jurisdictions in Canada get, because of the higher cost of building houses in the North.
Getting that funding shouldn't just be down to the GNWT, says Chinna, but should include lobbying from lower levels of government and NGO's as well.
"Like I said before, it's a collaborative approach for lobbying the federal government has to happen on both sides as well, too, and to find solutions for homelessness," said Chinna.
Finding funding that is continuous over multiple years is the biggest obstacle for NGO's like the YWCA. Most funding and grants they get is a one-time sum, or funding only for one-year, which makes signing leases to provide houses precarious.
"Each year, we have to do this dance," she said. "You can just imagine how tricky it is if you go in, as an NGO, taking on leases for people and you sign a one year lease, what happens when that ends, when the funding ends? What if your lease is still ongoing? That's one of the challenges."
Sometimes, this means the organization has to take on debt to cover the lease, and stop the family from becoming homeless. In that situation, Dumbaya-Sesay said the YWCA tries to support as many families as possible, and hopes the funding becomes available.
"We have to just hope, we have some hope and try to find money again, but it's not promised," she said. "It's not something that you're guaranteed that it's gonna come, you have to just keep applying and finding different sources of funding, and hope that you can be able to, or else we are responsible for paying the lease.