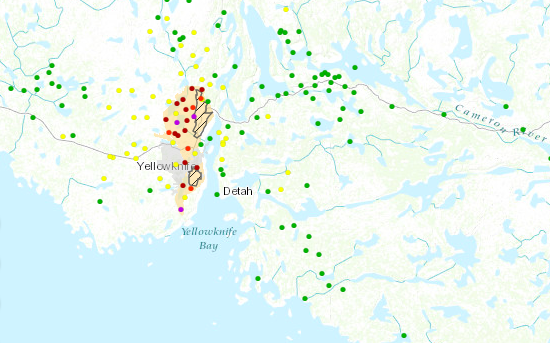 The NWT's chief public health officer is reminding locals and visitors not to swim, fish or harvest in or around several local lakes to avoid exposure to arsenic.
The advisory states people should 'avoid swimming, fishing and harvesting berries, mushrooms and other edible plants around David Lake, Fox Lake, Frame Lake, Gar Lake, Handle Lake, Jackfish Lake, Kam Lake, Niven Lake, Peg Lake, Meg Lake, and Rat Lake.' These are lakes with high levels of arsenic, 52 parts per billion and above. While activities in and on the lakes should be avoided, walking through the areas close to the lakes is not hazardous according to the department.
READ MORE: Map of Arsenic Concentration in Yellowknife Lakes, Rivers
An interactive map on the health department's website also indicates which lakes are safe for swimming and fishing, including Prelude Lake, Pickerel Lake, Banting Lake, and River Lake. These are lakes where the arsenic levels are below Health Canada drinking water guidelines, although the health department says people should avoid drinking untreated water from any lake.
The health department says the Yellowknife and Cameron rivers are regularly tested for arsenic and are 'well below drinking water guidelines.' Swimming and fishing in these rivers is safe, the department states.