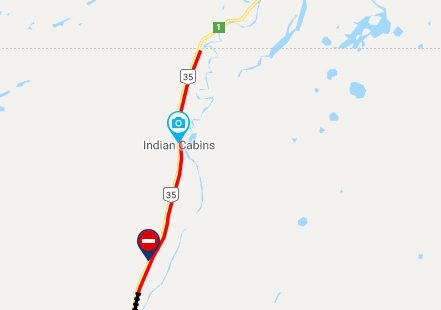 Highway 1 between Enterprise and the Alberta border is still closed due to an active wildfire in Steen River. The road will likely be closed for the remainder of the day.
#NWThwy1 remains closed between #Enterprise and the #Alberta border due to wildfires in Steen River. On the Alberta side, a section of Highway 35 south from the NWT border is expected to remain closed for today. Updates will be tweeted as they become available. #NWT

— GNWT/GTNO Infrastructure (@GNWT_INF) May 29, 2019
The road was closed as a 400-hectare fire was burning around six kilometres west of Highway 35 near Steen River yesterday. Steen River is located approximately 120 kilometres south of Enterprise and about 120 kilometres north of High Level, which has been under an evacuation order since May 20th.
Hwy35 is CLOSED from the Hwy697 jct to south of High Level due to wildfire. No travel permitted beyond this point. Access to the La Crete Ferry is maintained via Hwy697. (11:23am) #ABRoads #ABFerry

— 511 Alberta (@511Alberta) May 29, 2019
Update: The La Crete Ferry is CLOSED to traffic from both directions. (1:43pm) #ABRoads #ABFerry

— 511 Alberta (@511Alberta) May 29, 2019
More updates will be provided as they become available.