The Northwest Territories is launching a trial to test its new "iPads for Parents" program.
One hundred iPad Minis will be handed out to new parents in the territory between now and the end of May.
If you became a parent in the NWT any time from April 1, 2014, you may be eligible and are encouraged to get in touch with the Department of Education if you haven't already heard from them.
The program has come in for criticism before its first trial has even begun.
Also online: Yellowknife's teenage boys turn to yoga for self-control
In February, MLA Daryl Dolynny questioned whether the department's $750,000 investment in iPads was "just another splurge technique to get rid of funds" near the end of the financial year. (No, it was not, said the department.)
Another MLA, Bob Bromley, launched a stinging attack on the territorial government's partnership with oil company Chevron, which is supporting the program with $410,000 in return for placing its logo on each device.
"This is a complete injustice," said Bromley. "Putting logos like this in homes, at the dinner table – a fossil fuel company, the basis of the greatest threat to our civilization."
So what's actually on the tablets? The full list is below. 
Jackson Lafferty, the education minister, is quick to clarify that the iPads are for the parents and not the babies, which appears to have been a source of confusion among politicians.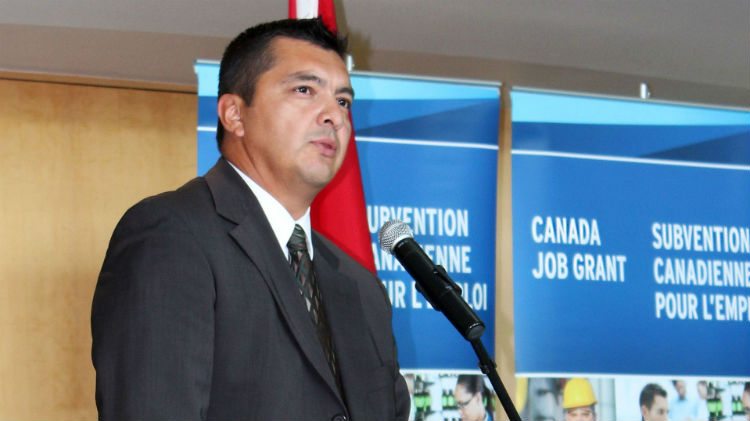 "There's information on immunization, baby-and-mom exercises, baby songs, different language apps, as well as a recipe book," explains Lafferty.
"This will benefit new parents who can't afford to have a tablet full of applications.
"It's based on feedback that parents and grandparents need more information when it comes to raising kids, so they can be more productive and ready for school. We feel this provides an opportunity to access all kinds of information.
"This program is being covered on the national stage. I think other jurisdictions will probably be envious – we're willing to share the information with them as well."
This 100-iPad trial will be followed by the roll-out of a bigger program in August, which should see 1,500 iPads handed out over a three-year period.
"We want to receive feedback from the first 100 tablets," said Lafferty, "to see if there is anything we missed out, any upgrades for tablets we release this fall."
If you think you're eligible, visit the Department of Education's website for more information on signing up.
What's on each iPad? The full list
(Information and descriptions provided by the GNWT. The list of apps may change during and after the trial.)
FirstYear Pro and BabyConnect – Tools for recording notes on a baby's health and progress. This app can store information to ask a doctor or nurse at a later appointment.
Together with Baby – A collection of videos including health, safety, sleep, and general baby care tips.
Nanny app – Frequently asked questions from new caregivers, baby care tips and information.
Recalls and Safety Alerts – Government of Canada recalls and safety alerts for food, vehicles, health products and other consumer products.
In Dad's Care – Tips and first aid information targeted at fathers.
Mustela Baby Coach – Baby's progress, activities and keeping a daily record from pregnancy through baby's second year.
Baby's Here – Help! – Parenting guide for new primary caregivers. Provides information on areas of daily concern, the sick baby, crying, etc. Separate sections allow different caregivers to record.
My Recipe Book – Search and save recipes, or create/enter own recipes. Create a grocery list. Portion sizes can be changed based on the number of people being served.
Super Mom Workout – Videos show exercises that can be done at home.
Period Tracker HD – Period and ovulation tracker to record symptoms and track menstrual cycle.
ImmunizeCA – Receive automatic reminders to schedule routine immunizations. The app provides access to information about recommended immunizations for children, adults and travellers specific to the NWT.
Mom & Baby Exercise – Weekly Workout – Specific exercises for every week from birth to six months after pregnancy.
Baby Songs – Recorded lullabies. App allows the user to record stories and lullabies in any language.
Language-specific introductions – eight applications tailored to official languages of the NWT, offering language learning, games and quizzes in many everyday categories such as greetings, activities, food, clothing, expressions, family, plants and animals.
Also included are 13 bookmarked websites focusing on topics like health and literacy. Seven of the apps are English-only; one is French-only.