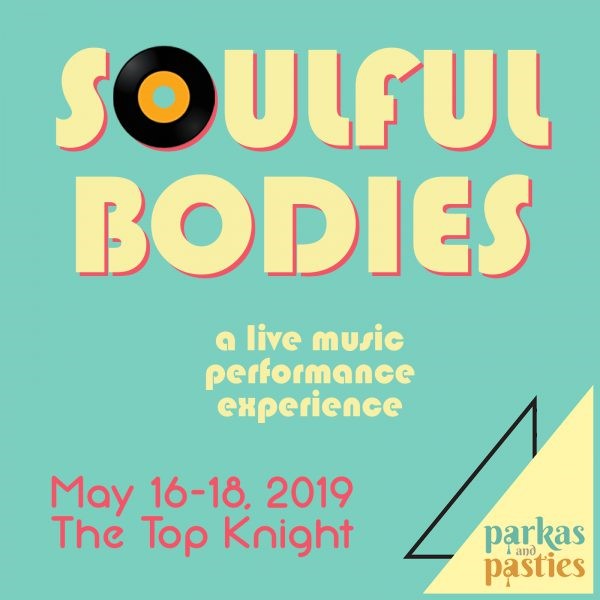 Parkas & Pasties is back with their second instalment of Soulful Bodies, the beloved live music burlesque and cabaret experience to be held on the Top Knight stage from May 16th-18th. This year's Soulful Bodies will be an 'eclectic cabaret set to neo-soul and R&B tunes, spanning from 80s bops to more recent grooves'.
Returning house band Midnight Soul will set the stage for a  cast of both newbie performers and familiar faces. Aurora Chorealis director Margo Nightingale rejoins Midnight Soul, bringing powerhouse vocals to their full-bodied soul sound.
This year, Parkas is set to feature Champagne Sparkles from Victoria BC, an effervescent peeling commediene and founder of the Cheesecake Burlesque Revue. Sparkles says what she's most excited for is connecting with a new group of audience members and receiving feedback.
"I love that immediate connection because burlesque is this very do it yourself art-form and its body positive, diverse and inclusive I really love connecting with audience members and hearing them say it's so good to come and see a show where I can come and see myself reflected onstage."
Sparkles adds that she be teaching two different kinds of workshops at Bella Dance Academy on May 18th, one of which will be "Once Upon A Time", a character and storytelling workshop.
"The first workshop is about how to develop your character and how to create a story that you can tell to music in a relatively short period of time. We will do some super easy choreography, no dance experience necessary."
The other workshop is "Get That Gig!", an artist booking and touring workshop that Sparkles notes is for people that like to perform and would like to know how to reach out to different producers.
"It's about how to put together your materials in order to get yourself bookings whether it's locally or to be able to travel and perform, being your own booking agent really."
As for the Burlesque show itself, musical director and pianist Andrew Jossa says he's been looking forward to this show since last year as it's one of his favourites to work on in part because of the variety of music submitted by the performers.
"I always end up playing songs I never would have come across otherwise, and it's a very fulfilling experience as a musician. I really hope the audience sees how much fun we have with this production."
Along with an evening of burlesque and music, audience members can win prizes with in-show games, and VIP tables will include a swag bag of take-home goodies. Tickets are available online starting at $30.