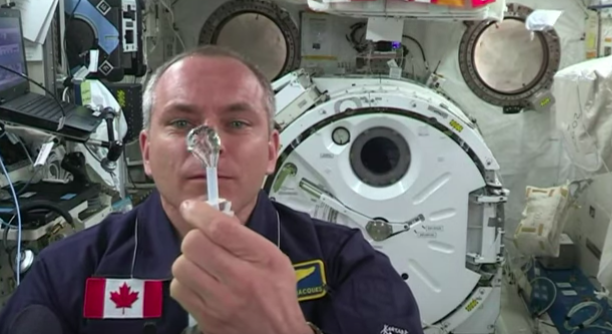 Hours after catching a SpaceX Dragon cargo ship loaded with 3 tons of NASA supplies, Canadian astronaut David Saint-Jacques called Inuvik students from the International Space Station.
East Three Secondary School students spoke with Saint-Jacques while on his first mission aboard the International Space Station, where he has been since December 3rd, 2018.
The students are winners of the Bring Space to Your School Contest. Fellow astronaut in the Canadian Space Agency Jenni Sidey-Gibbons, who was at the school Monday, says the visits are meant to bring students closer to Saint-Jacques' mission and the world of space.
"We're just trying to spread the world how space is for everyone and we want to get more people involved in the Canadian Space Agency and the industry itself," she says. "We're connecting these schools with David when he's on orbit and he answers their questions and discusses space with them. It's pretty special to see how excited people are."
Saint-Jacques has been at the space station five months ago. He is both a scientist and the station's chief medical officer, as his impressive resume includes time spent working as a medical doctor in Puvirnituq, Nunavik.
"He's performing a bunch of science and technology experiments to try and find things about the human body. He's carrying out experiments to see how the human blood, brains and bones react in microgravity, when you're in space. As well as a slew of other experiments."
Sidey-Gibbons is going through the training Saint-Jacques has gone through, two years of learning everything about the space station, life in space, Canada's program on the space station as well as the Russian language.
"It was really special to be with the people in Inuvik today," she says. Her background is in engineering, where she studied combustion science and became a mechanical engineer.
And one question on the students' minds, as well as that of Moose FM's afternoon host Greg Komarnicky, was how the aurora borealis looked from the ISS. One of the most incredible sights from the space station, Sidey-Gibbons says.
"When they happen all of the astronauts look out the window and just stare…You see them in a similar way as you'd see them down below but obviously, your viewpoint is much wider and you're seeing our planet interact with those auroras on a whole."