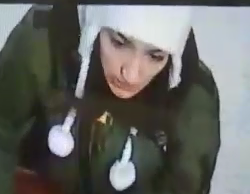 Yellowknife RCMP and the General Investigative Section have charged a woman in connection with two robberies this year.
At approximately 7:15 p.m. on Saturday, April 20th, Yellowknife RCMP received a report of an alleged armed robbery at Willy's Convenience Store on Range Lake Road. Yellowknife RCMP and GIS responded and secured an image of the suspect from the surveillance video.
During the investigation, RCMP were able to link the same suspect to a theft at Mac's Convenience store, on Old Airport Road, that occurred on April 17th. Further investigation revealed the same suspect was involved in a previous armed robbery, of Willy's Convenience Store, on January 4th of this year. The first alleged armed robbery had not been reported to the police at the time.
RCMP have charged 20-year-old Yellowknife woman Cynthia Lafferty with two counts of Robbery and one count of Theft under $5000. A warrant for her arrest has been issued.
Lafferty is described as Metis descent, female, 5'7, 127 lbs, brown hair and brown eyes. Anyone who knows her whereabouts witnessed the events, or have information on her location is asked to call Yellowknife RCMP at 867-669-1111.
Cpl Julien Chalifour, Acting GIS NCO i/c states that patrols looking for Ms. Lafferty are engaged.
"It is important that the public reports any suspicious activity to RCMP as soon as possible, so we can begin an investigation into any criminal activity. At this time, we are seeking information on Ms. Lafferty. If you know where she is, please call us."
RCMP do not believe that the January 4th and April 20th alleged armed robberies are linked to any of the other four robberies reported between January and March of this year in Yellowknife. Those investigations are open and ongoing.
Anyone with information on this or any suspicious activity is asked to contact either Yellowknife RCMP at 867-669-1111.