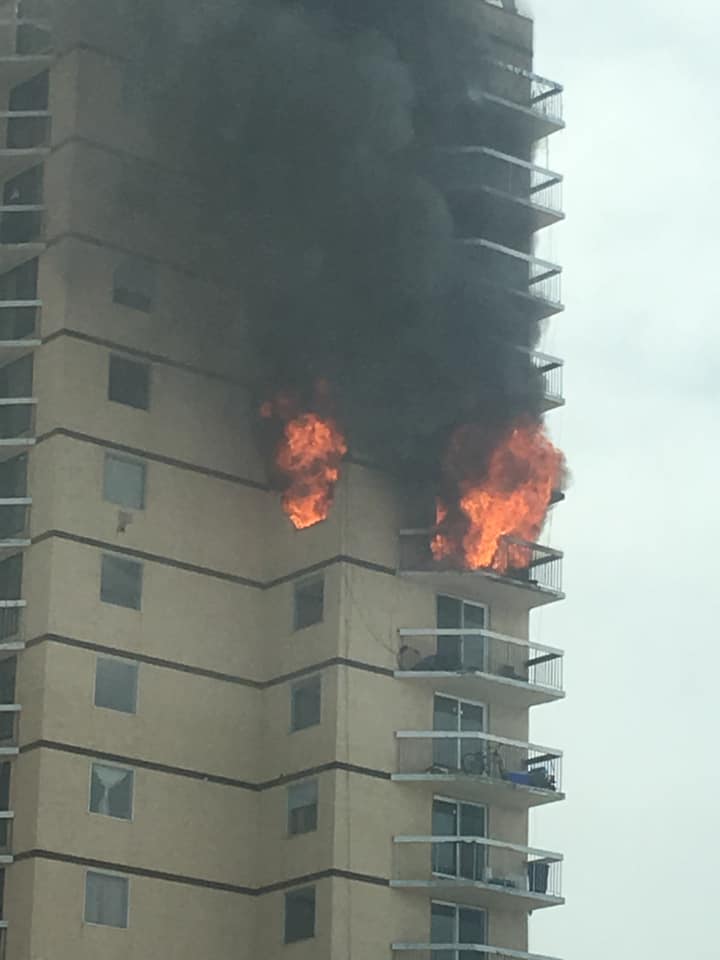 The owner of the fire-damaged Hay River highrise is asking his former tenants to pay their overdue rent.
In an advertisement in the April 3rd edition of the Hay River Hub newspaper, Harry Satdeo put in a 'notice to tenants' stating his company was working on repairing the damage to Mackenzie Place and that repairs were estimated to be finished in two months. He asked tenants who owe rent to 'square up their dues.'
"While we await reports from all government agencies, Satdeo Inc. is endeavouring to remedy the damage caused by the recent fire in the building. We are hoping to have the situation corrected within two months," the notice states, which also includes the email to send correspondence to – [email protected]
"Tenants who wish to terminate their lease may give written notice. Under this financial constraint, we request tenants who owe rent to please square up their dues.
Tenant William Sagriff says many in the building had been diligent in paying their rent, including him and his wife who had paid their March rent in full.
"There are good people that lived in that highrise. Harry has a responsibility to those people not to shaft them."
Sagriff and another tenant who spoke with MyYellowknifeNow say neither building owners nor managers have been in contact with them in the three weeks since the fire. Neither has been given back their security deposits.
People evacuated from the highrise on March 15th have worked out a number of different housing arrangements says Robert Tordiff, assistant deputy minister of municipal and community affairs. Some have found permanent housing, others are staying with friends and relatives or at hotels. Others have arranged housing with their employers.
READ MORE: Couple rebuilds after Hay River highrise fire
Seventeen people are being housed at the K'atl'odeeche First Nation's Dene Wellness Centre in an agreement which lasts until April 15th.
Tordiff says MACA has worked with the housing corporation to connect with all evacuees and update their needs assessments to see how many will need help finding housing long term.
"The folks that were living at the highrise had various different housing arrangements. Some people were in a market rent situation where they were renting directly, others were clients of the GNWT through various different programs that it provides," he says. So we've encouraged people who were in market rental units to start to look for new units. We've provided them with a list of all the available units for rent or for sale in Hay River."
In the long term, rectifying Hay River's housing shortage is something the government and private industry will need to work on. "This fire at Mackenzie Place has really highlighted the need for an increase in rental units in the town of Hay River," Tordiff says.
An interview request has been sent to the housing corporation for more information about long term housing plans.