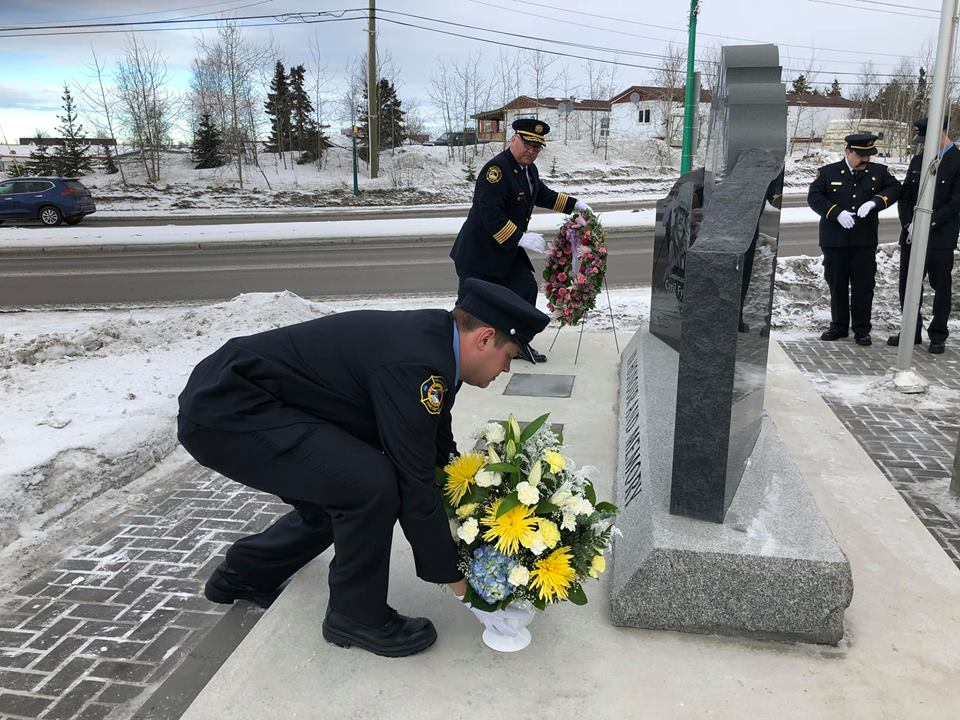 Two Yellowknife firefighters who lost their lives while on duty were remembered Sunday, on the 14th anniversary of their death.
Lt. Cyril Fyfe and new recruit Kevin Olson were fighting a fire in a saw shed of the Home Building Centre on old Airport Road March 17th, 2005.
The roof of the building collapsed with Olson and Fyfe inside. Four firefighters tackling the blaze from the roof survived the collapse, while Olson died that day and Fyfe passed away in hospital a few days later.
READ MORE: Yellowknife remembers fallen firefighters 11 years after fire
Fyfe, 41, had spent 18 years as a firefighter in Yellowknife. Olson, 24, was in his second week on the job. The fire was the first and last he would ever fight.
A memorial was held Sunday to remember Fyfe and Olson and the sacrifice they made. The ceremony began at 10 a.m. with flags lowered to half-mast. Fire chief John Fredericks says the March 17th memorial is going to become an annual gathering.
"We come together and reflect on things from the past and look towards the future. It's something we'll never forget here and we just want to make sure we're committed to the memory of Cyril and Kevin. It was a good day, good turnout."
Another annual tradition in memory of Fyfe, Olson and RCMP Cst. Christopher Worden, killed in the line of duty in Hay River 2007, is the Memorial Hockey Challenge. The event will take place April 5th, from 7 to 10 p.m. at the Multiplex, with the Yellowknife Fire Division team meeting an RCMP team on the ice. Entrance is by donation and all funds raised will go to burn survivors.