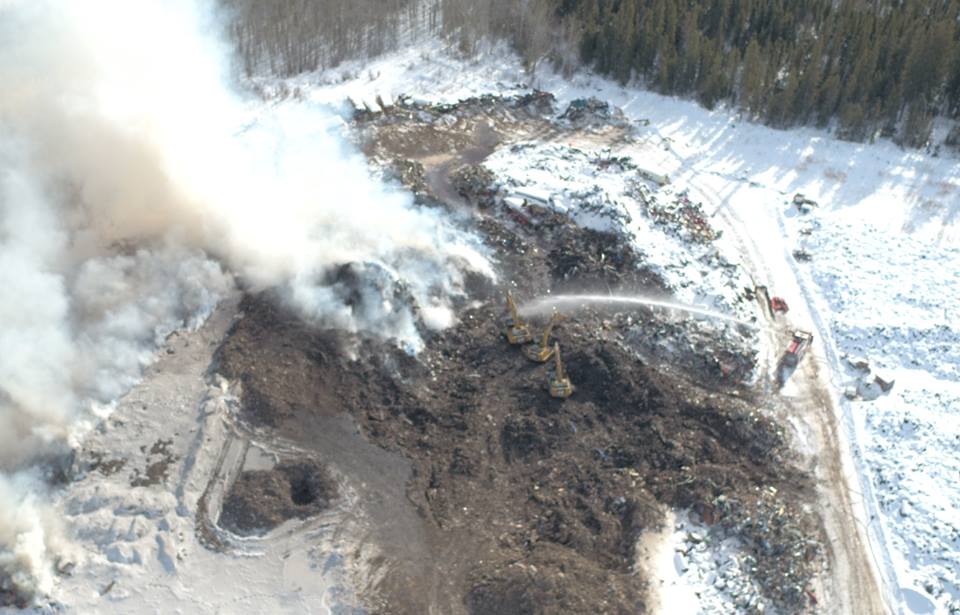 Yellowknife firefighters will provide some relief to Hay River and Fort Smith crews in fighting a fire at the Hay River landfill.
Crews are in their ninth day of fighting a subsurface blaze which the town says is 'significant in size but in control.'
Conditions have improved overnight and wind directions should prevent air quality concerns in Hay River. "West winds shifting to North-West should keep smoke and any air quality concerns out of the core of the town," a notice on the town's Facebook page states. "Air quality monitoring equipment will be put in place today and tomorrow."
A precautionary advisory was issued Monday, warning of the possibility of poor air quality from the fire. People can reduce their exposure by avoiding 'strenuous outdoor activities and by staying indoors with windows and doors closed,' the advisory states. "Anyone experiencing a worsening of symptoms such as wheezing, chest discomfort, or shortness of breath should seek an assessment at the health centre without delay."
The city is also working with the Department of Environment and Natural Resources to monitor water supply to ensure water doesn't pool and enough is available for firefighting efforts and residents. "Pumps are now in place at Porritt Landing to supply water trucks reducing demand on domestic water services."
The local state of emergency is still in effect and residents are asked to leave room for water trucks and emergency vehicles traveling between the landfill and town.