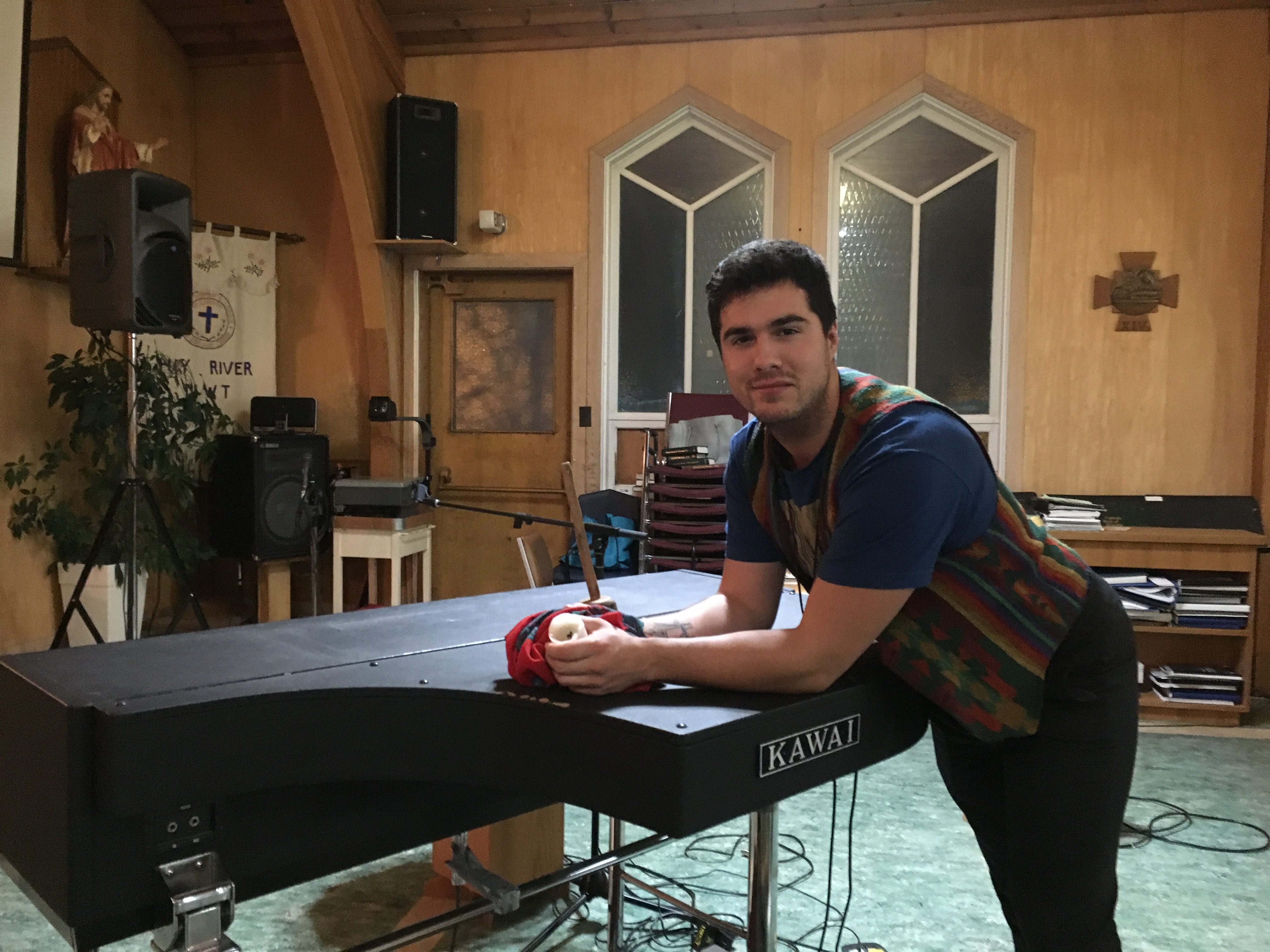 Jeremy Dutcher doesn't put much stock in the word reconciliation.
Rather, the classically trained musician from Tobique First Nation who exploded onto the Canadian music scene after winning the 2018 Polaris Music Prize, says it's about gathering and experiencing sound together.
"I'm more interested in relationship and creating shared space and so that's what I hope these shows will do."
Dutcher played to an audience of 80 Saturday at Hay River's Our Lady of Assumption church. The February 9th show was the last on a tour of five NWT communities with the Northern Arts and Cultural Centre.
READ MORE: POLARIS PRIZE-WINNING OPERA SINGER TOURS NWT
Dutcher says he has witnessed 'the true diversity' of the region on his NWT tour. He has also heard stories of how people relate to their Indigenous languages.
Dutcher performs entirely in Wolastoqey, the language of the Wolastoqiyik whose traditional lands are along the Saint John River. Around 350 people identified the language as their mother tongue in 2016, according to the Canadian Encyclopedia.
A classically trained musician, Dutcher found inspiration for his break-out album Wolastoqiyik Lintuwakonawa in wax cylinder recordings of early 1900s Wolastoq songs.
'All artists are problem solvers,' Dutcher says. The problem he saw was these songs stored away at the Canadian Museum of History rather than alive in his community.
"These archives were just sitting in the museum, and they weren't actually being lived and witnessed in the community. And so for me, it was about presenting them in a way that people could connect with, that was accessible."
Dutcher says it's all about presentation, referencing the words of Indigenous musician and fellow Polaris Prize winner Buffy St. Marie. "She says, you know, if you don't like what's on the menu, go into the kitchen and cook it up for them and show them how good it tastes."
Creating the album has also been his own personal journey of reclaiming a language which was suppressed for generations who attended residential schools. "This whole record process is a culmination of five years of work, but probably more accurately 28 years of work. This is me, this whole project, this has been my journey of reclamation of language," he says.
"I do this work for people like my mother, who went into the schools when she was six and they were not kind in those places. They were beaten for speaking their language."
Shame for one's culture and identity was taught in the schools, Dutcher says. He sees himself as part of the first generation to be doing 'incredible things' without this shame.
"We're the first generation that didn't grow up in that shame, the culture of shame of who one is. And that, I think, is powerful medicine."
The praise for Dutcher and his work are far from over. CBC announced January 29th his Wolastoqiyik Lintuwakonawa is up for a Juno for Indigenous Music Album of the Year.