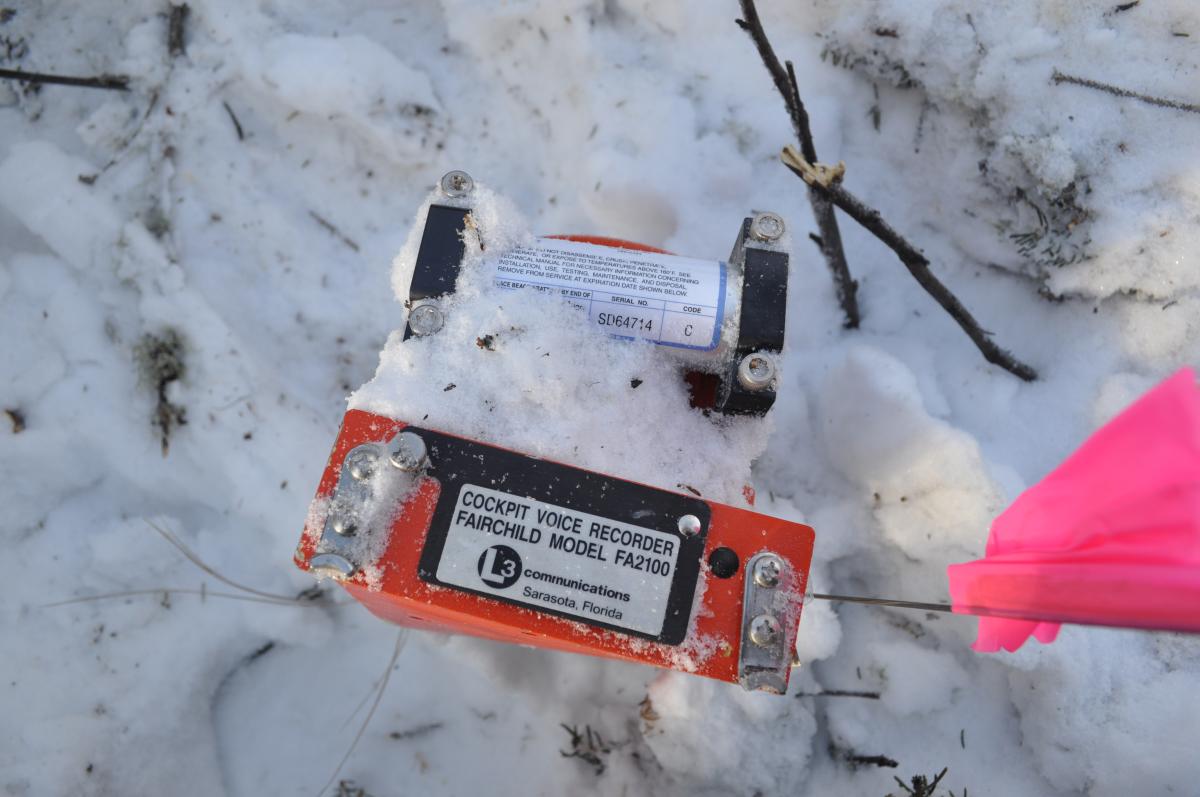 The cockpit voice recorder of an Air Tindi plane involved in a fatal crash between Whati and Behchoko less than two weeks ago has been recovered.
Transportation Safety Board of Canada spokesperson Chris Krepski says flight recorders are 'very valuable' sources of information. The devices record 'flight crew conversations, radio transmissions and sounds heard in the cockpit' a TSB website states.
The recorder has been sent to an engineering lab in Ottawa and investigators won't know more about what, if anything, was captured on it until it is analyzed further.
"The lab has the equipment to analyze them, to recover the information from them, to repair them if they're damaged, to try to piece together what's there," Krepski says.
Regional manager with the TSB Jon Lee told MyYellowknifeNow the device records 30-minute loops of what is transpiring in the cockpit.
According to laws governing the TSB's work, transcripts or audio from the voice recorder are privileged and cannot be shared. Information gleaned from any recording will, however, be used in the investigation and will be described in the findings.
Krepski says investigators are still in the 'field phase' of their work at the site of the January 30th crash, which killed the two pilots on board: Will Hayworth, 36, and Zach McKillop, 28.
READ MORE: THOUSANDS RAISED FOR FAMILIES OF AIR TINDI PILOTS
The plan is to recover the King Air 200 aircraft and bring it to Edmonton for further analysis. Krepski could not say more about what conditions on the ground looked like now.
At the time of the crash rescuers and investigators dealt with deep snow and wind chill down to minus 33.
READ MORE: AIR TINDI ACCIDENT WAS "NOT SURVIVABLE": TRANSPORTATION SAFETY BOARD
On Friday, MLA for Yellowknife Centre Julie Green praised the Winnipeg-based 435 Transport and Rescue Squadron, calling their efforts to reach the crash site 'heroic.'
"Search and rescue technicians parachuted out of the Hercules aircraft carrying overnight survival kits and medical supplies," Green says. The rescuers worked with support from Behchoko's Canadian Rangers, Air Tindi and the crew of a C-130 Hercules, Green added.
"It took six to eight hours for the SAR techs to make their way from their landing to the crash site, wading through chest-deep snow. The Hercules provided light so they could see what they were doing."
Here is my tribute to the search & rescue technicians who helped find Air Tindi's downed plane on Jan 30. "… we depend on search and rescue technicians, the people who are willing to jump out of a plane on a dark and stormy night to see if they can help." #NWT @AirTindi pic.twitter.com/lRtEt4iNCw

— Julie Green MLA (@juliegreenMLA) February 11, 2019
Green says traveling in small planes to reach remote communities is a reality in the NWT and '99.9 per cent of the time' they arrive safely.
"But as Northerners, we know that accidents are a reality. When they happen, we depend on search and rescue technicians, the people who are willing to jump out of a plane on a dark and stormy night to see if they can help."
The TSB, RCMP and Coroner's Office continues to investigate the crash. A TSB website dedicated to the investigation is now active.