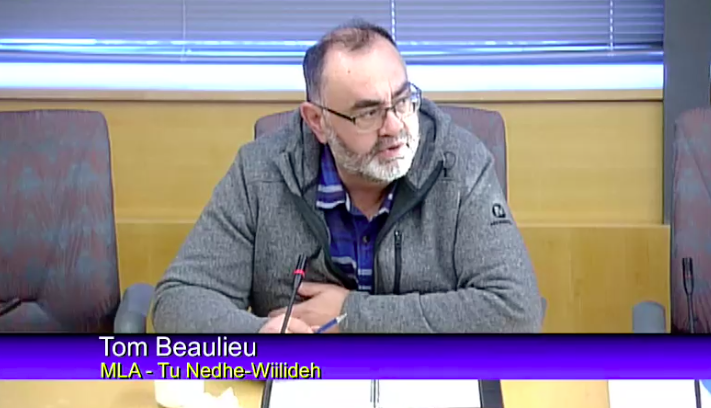 MLAs shared stories of Tylenol given out too frequently, elders being spoken to in raised voices and even a health minister being treated badly at a health centre at a GNWT committee meeting January 16th.
MLA for Mackenzie Delta Frederick Blake Jr. says elders in his riding tell him they are often given a quick fix after they tell doctors what is bothering them. "They're told 'oh it's nothing, don't worry, here's some Tylenol' and then they're sent home. Many times it's fatal, what they have."
MLA for Tu Nedhe-Wiilideh Tom Beaulieu says he was treated poorly by a receptionist at a primary care clinic when he was the minister of health.
"She was short, curt and very rude to me for absolutely no reason other than me showing up as an Aboriginal person."
Senior policy advisor for Aboriginal health Karen Blondin Hall says Indigenous people face unique barriers accessing healthcare.
"When they access care and services they're coming from a history of colonialism, residential schools, as well as facing what we've heard and what we know as systemic racism." 
The health department's two-year cultural safety action plan is created to address these issues and improve health outcomes for Indigenous residents says Minister of Health and Social Services Glen Abernethy. He adds the work is mainly funded by federal dollars.
Some highlights of the cultural safety action plan include:
Create a complaints process and other ways for clients to give feedback (i.e. a client experience survey)
Training staff, including having the majority of staff complete Indigenous Cultural Awareness Training
Make HR strategies to increase Indigenous staff at all levels of the health department
Making physical environments welcoming, culturally safe
Look at interpreter and translation services, review whether these services are available during the complaint process
Look at signage at health facilities and the needs for Indigenous or plain language signs
Look at expanding the Elders in Residence program at Stanton Territorial Hospital to other regions
Increase the ability of patients to access traditional foods
Provide options for smudging indoors and outdoors
Both Beaulieu and MLA for Nahendeh Shane Thompson say cultural safety training should be expanded to all workers in the GNWT, including social workers and those who deal with the income assistance program and HR.
Hear the full discussion of the standing committee here.