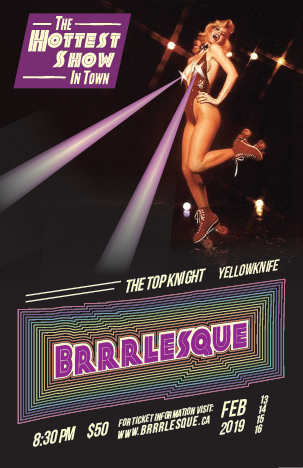 The hottest show in town is back, 1970's style as Brrrlesque will be performing for the 8th time in Yellowknife after taking a one year hiatus.
Brrrlesque will be performing at Top Knight for four straight nights from February 13th to the 16th from 7:30 p.m. to 11:30 p.m. Tickets for these shows will go on sale January 20th at noon.
To buy tickets visit this link and make sure to buy them quickly because they won't last long according to Producer and Co-creator of Brrrlesque, Camilla MacEachern.
"This year is the most amount of tickets we've had available because of the demand in past years. It is recommended if you want tickets to visit our site at noon to give yourself a better chance to get tickets. However, we do try and make it as fair as possible by limiting the number of tickets one person can buy online. "
The tickets that will be available are:
General Admission Tickets – $50,
VIP High Top Tables of 4 – $300,
Glitter Section/Front Row Tables of 4 – $340.
Heidi Kane, MC and occasional performer said the reasoning for doing this event '70s theme was because of the variety of music you can get from that decade.
"There's something in there for everyone, whether it's rock, disco, or soul. It also allows our performers to get very creative with their acts and song choices. We also encourage everyone attending to dress up '70s style and become part of the show."