It was an emotional roller coaster at the legislative assembly Thursday as the issue of family violence was brought front and centre.
RELATED: Ban proposed for MLAs running with assault convictions
RELATED: NWT men's healing program A New Day to be extended by six months
A recent recommendation by the Standing Committee on Social Development called for a five-year bar of those convicted of family violence from running for territorial office.
While meant to send a strong message against the 'epidemic levels' of family violence in the territory, many MLAs felt the recommendation would encroach on the voter's right to choose their own representative, regardless of criminal history.
That extended to one of their own.
Deh Cho MLA Michael Nadli addressed what was on everyone's mind: if this recommendation had been in place two years ago, he wouldn't be sitting in the House.
In 2015, Nadli was convicted of assaulting his spouse and suspended from his position before running for MLA again.
"It is not the type of wisdom I am particularly proud of, but as with most of life's lessons, the truly valuable ones are learned the hard way: by making mistakes," Nadli told his fellow members.
Family violence higher in Aboriginal communities 
Data from Statistics Canada suggests incarceration rates in Canada's three territories are significantly higher than they are anywhere else in the country, and Canada's North presented higher rates than most G20 countries.
The Standing Committee provided statistics that the vast majority of family violence cases in the territory are perpetrated by men against women.
Nadli took issue with one of the committee's conclusions that ethnicity did not play a role in determining the frequency of offenders or victims of family violence.
"It doesn't take a PhD to know the certainty that the incidence of family violence in our Aboriginal communities is far higher than elsewhere in the NWT and in Canada," he said.
"I know, from first-hand experience, that our correctional institutions are full of Aboriginal people convicted of this and other types of crime.
"Once a member of our society has served a debt to society, is it appropriate that we set additional limits on their return to full citizenship? Is it even desirable?
"Are better laws made by groups of individuals who have not made mistakes and learned from them? Should not our people be the final arbiters of who should and should not represent them in this place?"
'I know I am going to be disappointed by most of you'
Yellowknife Centre MLA Julie Green responded and told Nadli that while he is a very good MLA, they do not agree on this issue.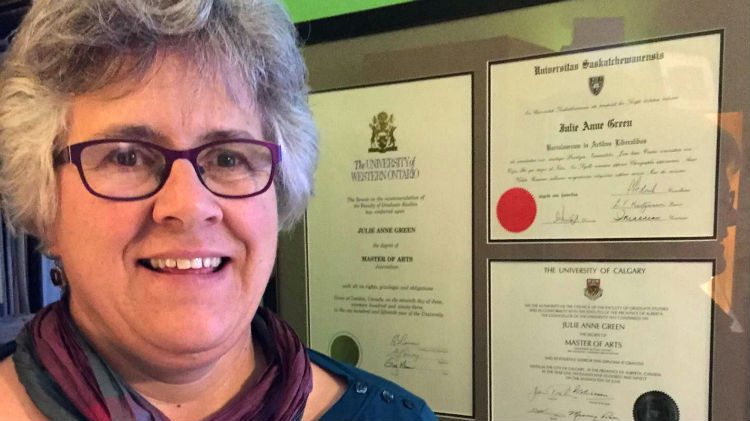 However, it was apparent that most of her colleagues did not stand on her side, something Green conceded to.
"I know I am going to be disappointed by most of you," Green told fellow MLAs.
"You are going to vote against this strong statement on family violence. I very much regret that.
"You can't unsay it. You can't make it go away by not talking about it. If it is not going to come to you in this form, it will come back again."
Minister Caroline Cochrane spoke about the right to vote, something that was not extended to Indigenous people until 1960.
The proposed ban was something that many thought would affect Indigenous people more than any other group.
"As a voter in the Northwest Territories, I want to be able to make the decision myself," she said.
"I want to be able to look at someone who has been convicted of an offence and judge them for myself whether they have been able to heal.
"If we restrict their ability to be a contributing member of society even further, we are limiting their right to be on a healing path. We are all human. We all deserve the right to follow that path."
In the end, members voted 13-2 against the recommendation. Nadli abstained from voting.