MP Michael McLeod announced today that the Government of the Northwest Territories and the Federal Government will be increasing funding to replace the Dehk'è Frank Channel bridge in partnership with the Tłı̨chǫ Government.
The Government of Canada is investing an additional $15 million dollars in the project while the GNWT has committed an additional $5 million, bringing the total federal funding to $52.5 million.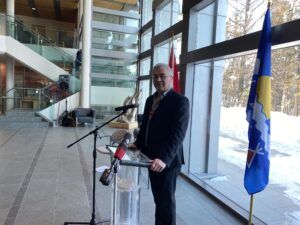 "This project is essential to ensure communities in the Northwest Territories remain connected, all season road connections are necessary to provide more affordable and flexible access to healthcare, employment, and education." MP Michael McLeod said in his announcement.
A replacement project on the bridge began in August 2021 when the Government of Canada announced an investment of $37.5 million through the National Trade Corridors Fund.
The 63 year old bridge has underwent several years of repairs however, due to the size and condition of the bridge, the three governments have determined replacement is necessary.
"This has been a long time coming, twenty-plus years engaging the communities, so it has taken some time but we want to have a bridge that can meet the needs of community members and also the commercial transportation needs of the site." Tłı̨chǫ Grand Chief Jackson Lafferty told MyTrueNorthNow.
Rehabilitation efforts have been made but structural limitations and demands by heavy transport trucks have proven the need for a new bridge.
"We started with rehabilitation upgrades in 2016 but through community consultations from the trucking industry saying that the current height and width of the bridge is too small for transport vehicles to pass, so we analyzed and replacement is what was decided." Director of Transportation and Infrastructure Binay Yadav said in the conference.
The new bridge will be directly adjacent to the existing bridge and demolition of the current bridge will begin after the new bridge opens to traffic.