Construction on Yellowknife's world famous snow castle for the annual 'Snow King Festival' is just weeks away from completion, but eager visitors who don't mind the cold weather can take an early construction tour now.
The Snow Castle originally started as a snow fort for the Snow King's children 30 years ago but quickly became an annual attraction for Yellowknifers of all ages around 20 years ago.
Now, the castle and its festivities are known worldwide as a fun way to spend the last month of winter in Yellowknife.
The castle used to be constructed 'igloo' style with large 200lb compressed bricks of snow stacked on top of one another to create the walls of the castle. Now, the fortress is built by flooding large wooden sheets with loose snow and compacting the snow to form one solid structure.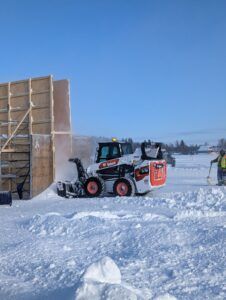 The snow that is flooded between the two walls is compacted down by two volunteers armed with shovels and their boots.
"Someone has to do it…" One volunteer said, covered in snow.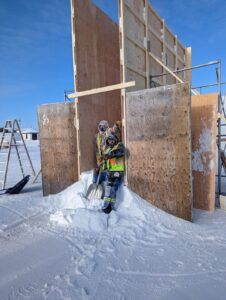 Each year, the castle sports a new theme for visitors to experience and according to longtime Snow King veteran 'Freeze Frame' this years theme is 'Funhouse.' Carvings of whimsical creatures line the inner walls of the castle and a reported 'walrus unicorn' carving will be featured in this year's festival, along with some old favorites like the beloved snow stage in the Great Hall, where performers will be putting on shows all festival long.
Guests on the construction tour are given a chance to see what makes it all possible, interact with some of the volunteers and even take a ride down the fan favorited snow slide.
The festival officially kicks off March 1 and goes until March 26. Tours are free for any who visit, but donations are always accepted.