The first full day of action at the 2023 Arctic Winter Games resulted in gold ulus for seven of our athletes and some huge performances across the board.
Team NT won all four 1,000m A finals at the first night of short-track speed skating in Fort McKay. Erika Pollard, Sage Acorn, Brigid Murphy and Seiya McEachern won gold ulus, Lochlan Dunn and Morgan Nelson took silver, and Byran Clinton's bronze completed an NWT sweep of the podium in the junior boys' event.
"It was such an exciting start. These guys did a really great job of bringing the day home," said NWT coaching staff member Madison Pilling. "It really sets everyone off on a good note. Morale is really high and everyone is really positive."
"I was feeling good about the races and I'm pretty sure everyone felt that way," said Sage.
James Williams won gold in Dene Games' triple jump and silver in head pull. Alex Fast and Storm Cabell-White won gold in snowshoeing and snowboarding respectively, while provisionally there were six other ulu winners for Team NT on Monday, though not all results have been finalized at this time.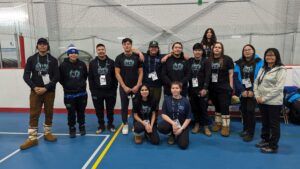 Storm, 12, paid tribute to Olympian and Łı́ı́dlı̨ı̨ Kų́ę́ First Nation member Liam Gill's visit to her hometown, Fort Smith, last year after he competed at Beijing 2022. "He came and snowboarded with us. He was super cool. He did very crazy things," said Storm, who channeled some of that energy into 180s that helped her land gold in the rail jam on Monday.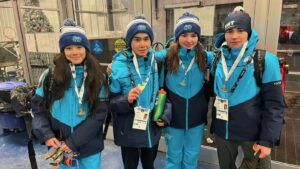 "All eight kids tried things that they've never tried before," said coach Cynthia White of Team NT's snowboarders.
Alex, 17, won the snowshoe 5km race having never entered a competitive snowshoe race in his life before. (Kierra McDonald, who took bronze over the same distance, was also in her first race.)
"I'm reminded a lot that I have to go fast to live up to my family name," said Alex.
"It was a really tough course," said Kierra. Organizers said this is one of the toughest snowshoe courses ever set at Arctic Winter Games level because of the amount of elevation involved.
Here are Monday's team results:
BASKETBALL
Female 51-36 Alaska
Male 91-69 Alaska
CURLING
Female 9-3 Alaska (6-0 after one end!), 12-2 Yukon
Male 0-12 Alaska, 5-6 Yukon
FUTSAL
Junior female 1-2 Yukon
Junior male 2-4 Yukon
Juvenile female 12-0 Alberta North (incredible win, campfire tales will be told for years)
HOCKEY
U19 Female 8-1 Nunavut
U18 Male 5-3 Alaska
U16 Male 4-0 Yukon, 8-4 Alberta North
VOLLEYBALL
Female 0-3 Alberta North, 3-1 Yukon
Male 1-2 Nunavut, 0-2 Alberta North, 2-1 Yukon
Team NT's current medal standings are as follows:
GOLD
Alex Fast for snowshoe
Storm Cabell-White for snowboard
Erika Pollard for short track 1,000m
Sage Acorn for short track 1,000m
Brigid Murphy for short track 1,000m
Seiya McEachern for short track 1,000m
James Williams for triple jump
SILVER
Effie Lockhart biathlon for snowshoe
Veronica McDonald for triple jump
Ariana Sundberg-Koyina for stick pull
James Williams for head pull
Lochlan Dunn for short track 1,000m
Morgan Nelson for short track 1,000m
BRONZE
Kierra McDonald for snowshoe
Jerrica Sanderson for stick pull
Maisey Murray for biathlon snowshoe
Byran Clinton for short track 1,000m