On the evening of November 8th, a small service was held in Yellowknife for Indigenous Veterans Day.
Light wind and gentle snowfall made for a uniquely quiet scene at Yellowknife's Lakeview Cemetery, as several dozen people gathered to pay their respects to the Indigenous men and women who served in Canada's military.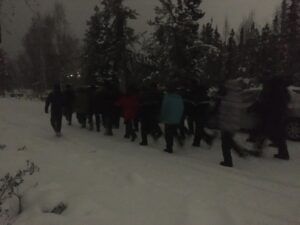 Indigenous Veterans Day is a relatively new event in Canada. This day of acknowledgement was established in 1994 as an opportunity to recognize the military service and sacrifices made by First Nations, Inuit, and Métis Peoples.
The event in Yellowknife was small and simple. Indigenous leaders and Legion members gave small speeches about the bravery of the many indigenous soldiers who served in both World Wars, Korea, and Afghanistan. Then, after a moment of silence and laying of wreaths, members of the local Cadets group placed candles on the gravestones of every veteran buried in the cemetery, regardless of whether or not they were indigenous.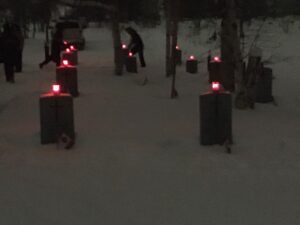 It made for a very mournful yet beautiful sight in the late fall weather.