Earth Week officially began last Friday, and to help celebrate, a rather interesting event was held on Saturday.
Over at 327c along Old Airport Road, members of the Aboriginal Sports Circle NWT group put together a demonstration of several Indigenous and Dene games for everyone to take part in. The event was open to all, free of charge, and was designed to teach the younger generations not just about the games themselves, but also about what the games were designed for, and how they are also environmentally friendly.
The games that were shown to the audience may have looked simple on the outside, but they each had specific purposes behind their creation. Cheyenne Lafferty, a member of ASC who helped guide her audience through the games, explained just one of the activities.
"So the Wrist Hang is a northern game, and is actually played to mimic the feeling of frost bite. So back in the day when we lived out on the land, obviously we lived in such cold, harsh conditions, and frost bite was pretty much inevitable. So they played the Wrist Hang to get used to the feeling, and understand what the feeling of frostbite is so they know how to deal with it."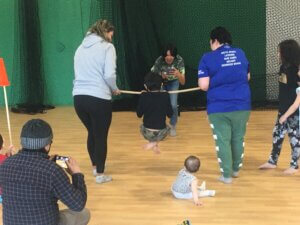 Cheyenne added that the Northern games have several different styles of games, including strength, endurance, agility, and social games. The Wrist Hang was an example of an endurance game which was designed to teach young hunters to deal with cold weather conditions.
As for the connection to Earth Week, and the subject of ecology, the link is surprisingly simple.
"They [Ecology North] actually approached us because of how sustainable our games are. Most of our equipment is made from natural materials that came from the land, such as wood for the stick pulls and pole push, so when they start to break down, the equipment can be returned to the land. Same with our seal targets and stuff like that are made from animals, and in our cultures, it is pretty much required that you want to be using the entire animal to feed and clothe the family, so that's also sustainable."
During the chat, Cheyenne also shared that ASC will soon be announcing a drop in game nights on Tuesday evenings from 6 to 8 pm at the same location that they held their Earth Week activities. She added that this will be a great opportunity for athletes to train for any upcoming sporting events. If anyone would like to sign up for the new program, they simply need to go the ASC website, which can be found by clicking here.