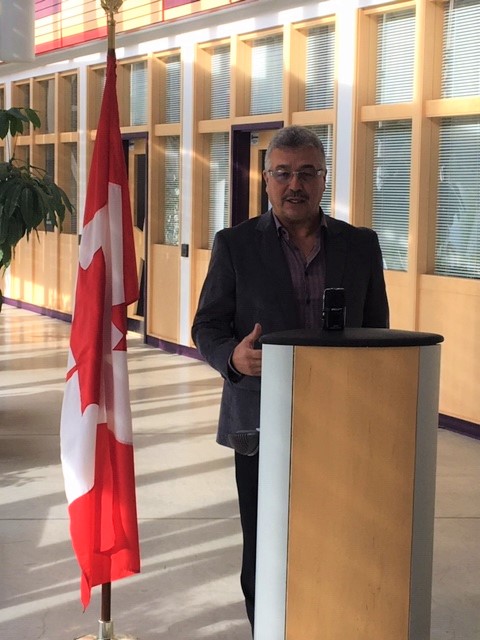 Michael McLeod, NWT MP, announced funding towards a fuel supply line mitigation project that consists of adding substantial fuel storage capacity in Hay River, as well as rehabilitating and expanding fuel capacity at the northern end of the Mackenzie River in Tuktoyaktuk, which will help resupply other northern communities.
The fuel capacity in Sachs Harbour, Ulukhaktok and Paulatuk will also be increased to 210% of consumption in those communities to ensure they have sufficient fuel in the event of a disruption. Overall, approximately 13.2 million litres of fuel storage capacity will be added to the NWT supply chain.
Wally Schumann, NWT Minister of Infrastructure, and Minister of Industry, Tourism and Investment noted that natural disasters resulting from climate change can, and have, impacted the territory as experienced this summer when wildfires in Alberta cut off road access to the territory and destroyed rail infrastructure that is relied upon.
"Increasing the fuel storage capacity in several of our northern communities will make our critical fuel resupply infrastructure more resilient to climate change and allow for fuel to be delivered to NWT communities if there are breaks in the supply chain or other events prevent fuel from being transported North."
This project will increase the resilience for more than 5,600 people, ensure that residents have continued access to fuel to heat their homes, businesses and community centres year-round, and greatly reduce the impacts of an interruption in the fuel supply chain.
McLeod stated that Northern communities need support to adapt to climate change because the reality is that communities in Canada's north rely on diesel for travel, to generate electricity, and to heat homes and businesses.
"This important work will help safeguard the fuel supply chain to ensure that residents are protected from fuel shortages caused by climate change disasters."
The Government of Canada is investing $21,750,000 in this project through the Disaster Mitigation and Adaptation Fund with the GNWT contributing an additional $7,250,000.
Another infrastructure announcement was made by François-Philippe Champagne, Minister of Infrastructure and Communities, and Schumann who announced funding for three projects to improve power generation in the territory.
The first project is the Taltson Hydroelectric Facility, which is undergoing a major overhaul to modernize its facility including upgrading various hydro, mechanical, and electrical components. This project will increase the reliability of the Taltson Hydroelectric facility, helping to avoid unplanned power outages.
The second project is the Fort Simpson Liquefied Natural Gas Power Generation project, which will displace diesel usage in the community by installing a new LNG power plant. The project will result in a cleaner and greener community by providing a more efficient and reliable energy source.
The third project is a New Diesel Power Plant Facility in Lutsel K'e. This power plant will replace the current diesel power plant, which is nearing the end of its lifespan, with a newer power plant located away from the community centre. The project will help address reliability and energy security issues in the area.
Schumann notes that Northerners depend on secure, affordable and sustainable energy supply to power their homes, industries and businesses.
"Investing in the Fort Simpson Liquefied Natural Gas Project, the Lutsel K'e Diesel Power Plant Project, as well as the Taltson Hydroelectric Overhaul Project, will support the Vision as set out in the GNWT's 2030 Energy Strategy for a secure, affordable and sustainable energy system."
Across these three projects, the federal government is contributing more than $37.8 million, with the Northwest Territories Power Corporation contributing more than $12.6 million.
Through the Investing in Canada infrastructure plan, the Government of Canada is investing more than $180 billion over 12 years in public transit projects, green infrastructure, social infrastructure, trade and transportation routes, and Canada's rural and northern communities.
$2 billion of this funding is supporting infrastructure projects that meet the unique needs of rural and northern communities like facilities to support food security, local access roads and enhanced broadband connectivity. In addition, $400 million is being delivered through the Arctic Energy Fund to advance energy security in the territories.
$4 billion of this funding is supporting infrastructure projects in Indigenous communities and funding for the construction of these projects is conditional and will only be provided once the federal government is satisfied that the obligation to consult with Indigenous groups is met.