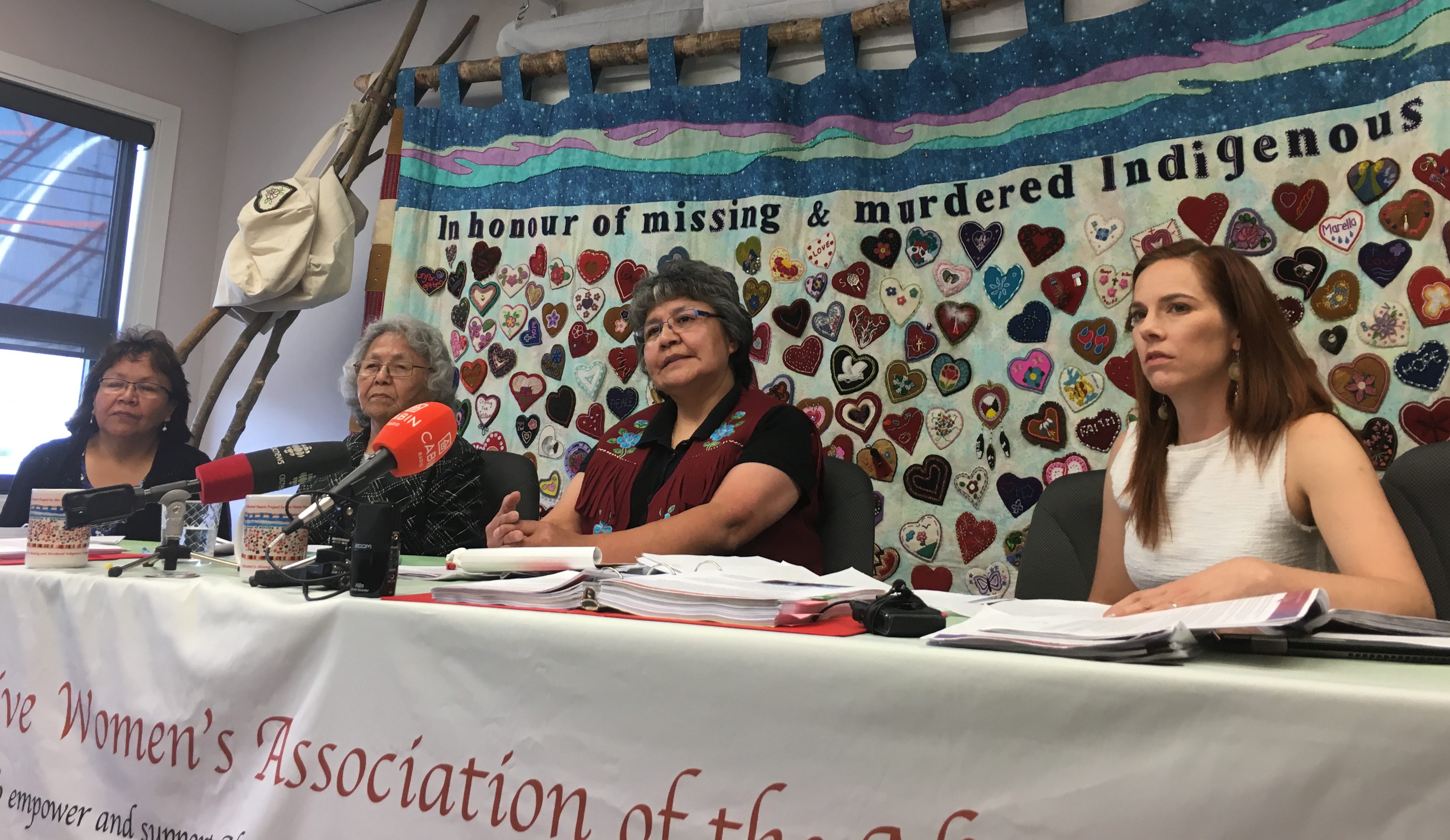 The Native Women's Association of the NWT says now is the time for action, after the release of the final report of a national inquiry into missing and murdered Indigenous women, girls and two-spirit people.
Interim president of the association Jane Weyallon told reporters Wednesday that what is happening to Indigenous women, girls and two-spirit people is a genocide.
"Since the colonial times, the Indigenous women have been controlled and exploited through the legislations. And it's still happening, to this day."
Last week the National Inquiry into Missing and Murdered Indigenous Women and Girls released their final report. The Association was the only NGO from the NWT given standing at the inquiry, allowing them to participate in expert hearings and give submissions.
Out of the 231 calls for justice in the report, leaders of the women's association say some are particularly important for the NWT.
Overall, Weyallon says a shift to community-based programs and services needs to happen. "More cultural and language-based, (for service providers to) identify with the communities that they are serving. Because what may work in the South may not work in the North."
Policing and the justice system
The association says they want to see action on police services in remote communities.
"If there was a police presence in more of the Indigenous communities, there would be more reported cases. Right now there is unreported domestic violence and lateral violence," Weyallon says. In the Tlicho region, Gameti and Wekweeti do not have police stations. "We all know what happened in Gameti in 2009," Weyallon says, referring to the 2009 death of 31-year-old Alice Black at the hands of her common-law partner Terry Vital.
Marie Speakman, family support liaison worker for the inquiry, says when people call the RCMP after hours they are transferred to a Yellowknife communications hub. The conversations can be difficult due to language barriers. Some community members also do not have access to a telephone or computer.
Wawzoneck says the calls to justice around ending limited duration police postings and increasing the relationships between police and communities are important for the NWT. Communicating with families and victims about perpetrators and their movements after they are released is also needed, Speakman added.
Child welfare and health systems
Reforming the child welfare system was a focus of the inquiry. One action Weyallon says she wants to see is the same funding afforded to foster parents going to grandparents who take over caring for their grandchildren. Services for parents who have their children apprehended are needed as well. "It can't just be for one side," she says. "I'm sure they would like to get their kids back. Nobody likes losing their kids to the system because it's still like residential school."
And relationships between healthcare workers and the community need to be improved. "As Indigenous people, we get tired. We get tired of having to orientate every two to three years, somebody new," says Lisa Semmler, member of the inquiry's National Family Advisory Circle, about the short term stays of police and health care workers. It takes time to build trust and open up to these workers she adds.
Because of the limited amount of healthcare workers, Semmler says workers often cannot do home visits. "The nurses can't leave the health centre – there's no emergency to go to the house and check on anybody…Somebody was stabbed, but nobody would go to attend to them so they had to carry them into the health centre," she says, referencing information in a study by Pertice Moffitt.
Within non-profit organizations, Speakman says there is a need for more aftercare for frontline workers. "We need to look after ourselves too, so we can bounce off our feet to attend to clients."
Caring for survivors, families 
The sharing circles happening during the inquiry are one way, Speakman says, to give families a place to share their stories and break cultures of silence.
Safe houses in smaller communities are needed for women escaping domestic violence, says board member and territory elder Therese Villeneuve, as well as more preventative help from the RCMP before a crime is committed. "There is not enough… in fact, sometimes there's nothing in the smaller communities to help women facing domestic violence."
Speakman emphasized the resilience and power of the women involved in the inquiry as well as all Indigenous women."Our aboriginal women have gone through many many ordeals, many hardships. Surviving residential schools, all this and yet we're still here today."
Time for action
The association stressed that with the report out, now is the time to act. Villeneuve says they want to see a framework and a call to action from parties who responded to the inquiry. "We are really hopeful that it's not going to sit on the shelf and collect dust, that there will be some action taken," she says. "But overall, we're in a positive mood."
The association would like to be part of the GNWT's strategic planning for services, Weyallon says, continuing the so far positive relationship between the government and the association.
Supports are available for anyone impacted by this issue. To reach the family support worker's office call 867-447-3050, a national support service can be reached at 1-866-509-1769.