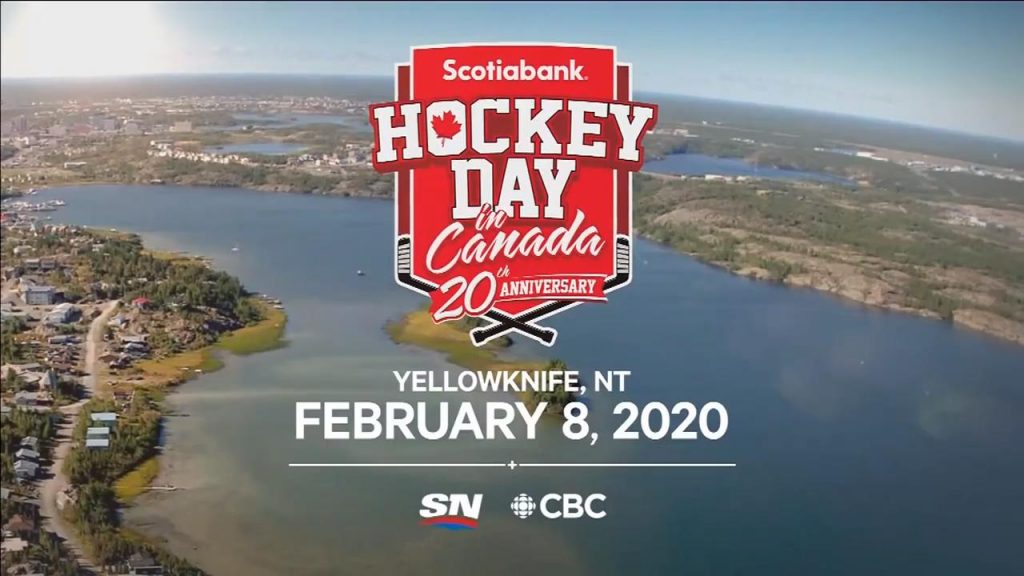 Rogers Sportsnet, Canada's #1 sports media brand, confirmed on June 1st that the 20th edition of Scotiabank Hockey Day in Canada will be held in Yellowknife on Saturday, February 8th, 2020.
An annual hockey tradition, the celebration will get started on Wednesday, February 5th as Scotiabank Hockey Day in Canada will host an opening event. The four-day hockey festival will showcase the community and family-friendly hockey events for all ages, all leading into the main event, the broadcast that will be held on the 8th.
Mayor Rebecca Alty noted that with many months of winter, Yellowknifers play hockey indoors in the City's top-notch arenas, outdoors on the ice of Great Slave Lake and on many backyard rinks.
"We are thrilled to host the entire nation for Scotiabank Hockey Day in Canada in February 2020. We look forward to celebrating the game we love and thank Sportsnet and Scotiabank for selecting our city. "
Chief Edward Sangris added that the Yellowknives Dene First Nation is pleased to be a proud partner with the City of Yellowknife in hosting Scotiabank Hockey Day in Canada 2020.
"Hockey runs through the veins of our people. This exciting event will inspire our youth as it will all of Canada and provide an opportunity to showcase our culture and heritage to the rest of Canada."
The city was approached by Scotiabank's Hockey Day in Canada in December with an offer according to Alty. City councillors gave the go-ahead to city staff to start planning back in April. City facilities manager Johanna Elliot noted at a council meeting in early April that in between all those hockey games will be basically one big, long Yellowknife commercial.
Somba K'e Park will provide the backdrop to the outdoor broadcast, complete with winter activities and community skating on the outdoor rink. Scotiabank Teammates Lanny McDonald, Cassie Campbell-Pascall and Darcy Tucker are scheduled to attend along with other special guests.
Free events include school visits by the alumni, several hockey games, hand games, indigenous and cultural activities as well as a number of indoor and outdoor activities with special focus on local arts, crafts, and artists. Ticketed events are set to include Scotiabank Music of Hockey Day, breakfast with the Stanley Cup, a banquet featuring all of the alumni and Sportsnet on-air personalities, and the main alumni hockey event.
"The City of Yellowknife offers the perfect setting to anchor Sportsnet's broadcast, as we mark the 20th anniversary of the event and celebrate Canada's love for hockey with an emphasis on the North," stated Joel Darling, Executive Producer, NHL Special Events, Sportsnet.
The event will be aired February 8th on a half a day-long (12.5-hour) broadcast on Sportsnet to 9.6 million viewers – one in four Canadians. More details about the celebration and broadcast schedule will be announced in the coming months.
This is the third trip to the north for the Hockey Day in Canada crew as they visited Whitehorse in 2011 and Iqaluit in 2003.