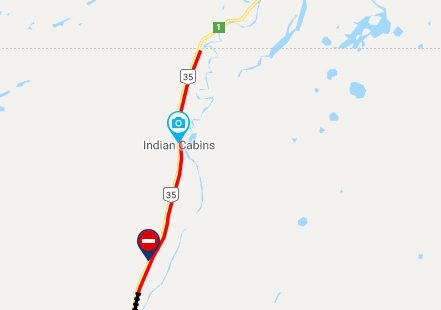 Highway 1 between Enterprise and Steen River, Alberta has been closed due to a wildfire at Steen River.
No vehicles are allowed to travel between #Enterprise and the #Alberta border (#NWThwy1) due to a wildfire at Steen River, Alberta. Updates will be tweeted as they become available. #NWT

— GNWT/GTNO Infrastructure (@GNWT_INF) May 28, 2019
The 400-hectare fire is classified as out of control by the Alberta Wildfire Service, it is burning around six kilometres west of Highway 35 near Steen River.
Traffic heading south will be held at Enterprise and northbound traffic will be held in High Level. For hourly updates on Alberta road conditions visit Alberta 511, for NWT updates see the Department of Infrastructure.
Update: Highway 35 CLOSED approximately 7 km north of Steen River, north of High level due to wildfire. Southbound traffic will be held in Enterprise – North West Territories and Northbound traffic will be held in High Level. (3:49pm) #ABRoads https://t.co/fPMAgLqR2A

— 511 Alberta (@511Alberta) May 28, 2019
The town of High Level is also still on a mandatory evacuation order, with sections of Highway 58 west of and Highway 35 south of the town closed, as crews battle a wildfire now 130,000 hectares in size.
NWT RCMP are asking residents not to travel south of Hay River. "The Department of Infrastructure has closed the highway at Enterprise and advise no one to travel between Enterprise and the Alberta/NT border," an RCMP update Tuesday afternoon states.