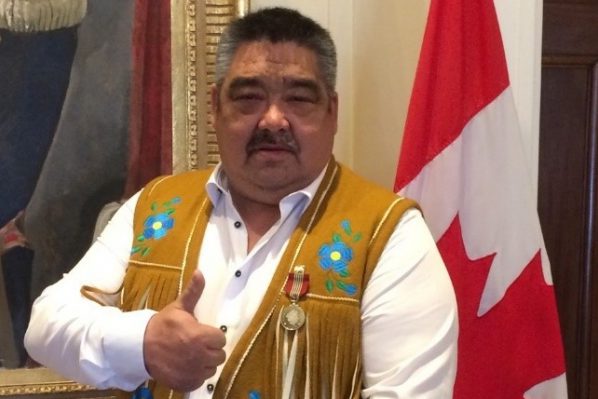 Behchoko's long-serving volunteer fire chief Rene Camsell has been honoured with a Governor General's medal for his volunteerism.
On March 26, Camsell was awarded a Sovereign's Medal for Volunteers from Governor General of Canada Julie Payette. He was honoured for his commitment to the Behchoko community as volunteer fire chief, and his role as captain of the local search and rescue team.
Camsell, 51, says he was shocked when he received a phone call from the Governor General informing him of the award. "I said 'you're just kidding', I said 'you're pulling my leg' and then two weeks later a letter came in from the Governor General. I was so excited, I got shocked for a while."
It was Camsell's first time visiting the nation's capital, a trip he made with his wife. When he returned, his 16-year-old son A.J. wanted to take the medal out and put it on. "I was so surprised. 'Dad' he says 'You got the medal, I'm so proud of you. One of these days I'm going to be like that." Camsell is a father of seven.
Born and raised in Behchoko, Camsell began volunteering for the then-named Rae Fire Department over 30 years ago. Ten years ago he became fire chief – he now watches over both Behchoko and Edzo departments. Around the same time he began working with search and rescue in the community, he is the captain of the team.
"It's like a three in one, I'm doing the fire department, search and rescue and acting town foreman. It was still busy, busy 24 hours. We're doing our own dispatch too," he says. "So 24/7 I'm on call."
Camsell has been involved in search and rescue missions where he has retrieved people alive, as well as dealing with tragedies where bodies are recovered – including his own nephew. "It's kind of hard but somebody's got to do it. You've got to put your mind to it," he says. "I told my guys that – be focused. If you're going to see a body or nothing, you're lucky if you don't see anything. So I'm always talking to my guys to see if everybody's happy."
Camsell and his assistant fire chiefs have also trained and supported fire departments in several Tlicho communities says Larry Baran. "Congratulations and thank you, "SpeeSpee". For your service and support to our community, to the Tłı̨chǫ Region, and to the Northwest Territories."
This will be his last year as fire chief, Camsell says. He adds he is looking for young recruits, people between the ages of 16 and 18, to join the fire department.