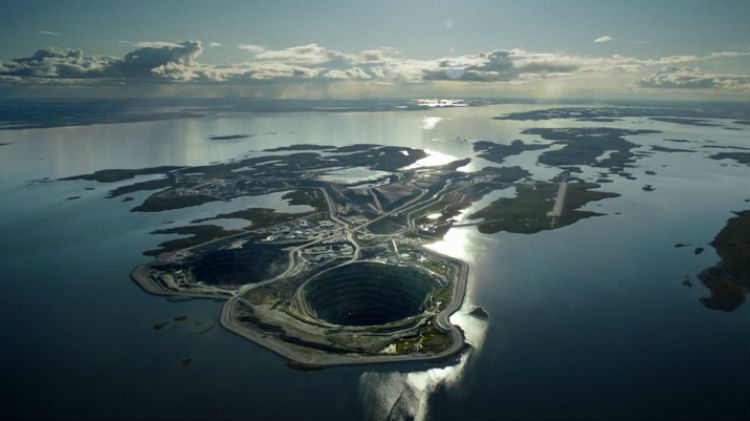 Leaders of the NWT mining industry have shared a bleak forecast for the future of mining in the territory. They also want the City of Yellowknife to step in.
Executive director of the NWT and Nunavut Chamber of Mines Tom Hoefer says the city should create a minerals plan which includes curbing city spending, investing in clean energy, and implementing mining education in Yellowknife schools. He spoke to a full house at city hall Monday.
The industry is a major one for the city, Hoefer says, with the bulk of the $800-million expenditures of the industry coming through the community. He estimates 40 per cent of the NWT economy comes from mining, and in 2017 alone 1,038 mining employees lived in Yellowknife.
The diamond mines in the territory are reaching maturity, with Diavik Diamond Mine set to close in 2025, shedding more than 1,000 jobs. Ekati Diamond Mine and Gahcho Kue Mine are also nearing the end of their mining life, Hoefer says, with Gahcho Kue having 12 years left and Ekati set to end somewhere between 2034-2042.
Hoefer argues the NWT has chased away development in the industry.
"One of them was unsettled land claims…that creates a big block of unavailable land. We've also had huge conservation efforts…that are also taking land away from our ability to access it. We've also got a situation where regulatory processes take a long time, we've had small seven drill hole programs getting bumped to environmental assessment, which would never happen in any other jurisdiction in the country," Hoefer says.
The solution may come from an unlikely place: the clean energy sector. As global mining companies join carbon disclosure programs, Connelly says the pressure to have cleaner energy sources is heightened.
"Without the infrastructure to bring cleaner, greener power to the north in very large and reliable quantities, it's going to be very difficult to attract investment into the mining side again," says David Connelly, community relations person with Terra X minerals and a board member at Avalon Rare Metals.
Councillor Niels Konge adds there is a potential to work with the mining industry to lobby the Government of the Northwest Territories on power.
"Power is hurting the citizens of Yellowknife; it's hurting the mining in the territory."
While most councillors at the meeting raised their hands when asked by Hoefer if they were strong supporters of the minerals industry in the NWT, some were more skeptical. Councillor Shauna Morgan said she couldn't issue blanket support as mining could be costly to taxpayers or beneficial, depending on the specific project.