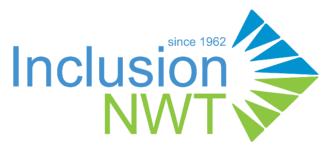 Inclusion Revolution Resolution
Make the Inclusion Revolution Resolution
Employers: sign up for next week's FREE webinar and commit to inclusive workplace diversity in 2022!
IF YOU SHOP LOCAL, chances are good you're supporting a business that supports inclusive workplace diversity!
The Inclusion NWT EmployABILITY service provides employment services for any individual who self-identifies with any disability. Services range from basics, such as building a resume, through to on-site job coaching support and everything in between.
Our clients are on the job right now in hotel and hospitality, restaurant and retail, shipping and receiving and in various offices and warehouses throughout the city.
"For those who need support to move inclusive workplace diversity from an idea into action in 2022, we encourage employers, human resources managers and supervisors to register free for the Inclusion At Work Webinar Series, scheduled for the first week of the new year," said Junn Gesmundo, Manager of Inclusion NWT Employment Services.
The three-part series explores practical, applied strategies to support inclusive hiring and shares examples of how businesses are building accessible and inclusive workplaces that benefit everyone. Sessions are an opportunity to connect with and listen to a diverse group of speakers. The series is facilitated by a hub team of presenters.