Moose FM sat down with each candidate ahead of the territorial election day on November 23, 2015. Here's what Yellowknife Centre's candidates told us.
More: Candidate Q&As from other districts
---
Julie Green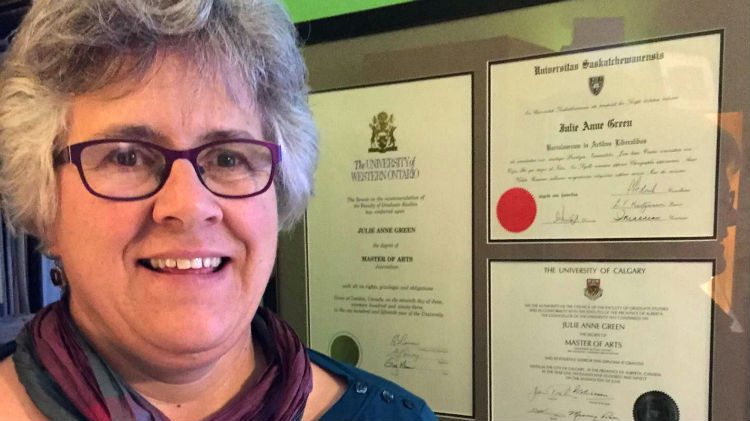 Give us, first of all, a quick overview of who you are and why you decided to stand.
I'm a woman who moved to Yellowknife from Labrador to work with the CBC. I spent a total of 16 years with the CBC, nine of them in Yellowknife. In 2009 I decided I wanted to explore something new: I had been a volunteer at the YWCA and I decided, at their invitation, to make the YWCA my work life. I spent three years there full-time and then another three years on contract. In that time I was immersed in the needs of low-income families and housing. The YWCA is actually an NWT resource – the Y does run the women's shelter in Fort Smith. In that time, I became very concerned about the lack of housing and poverty. I joined with a coalition of non-profits to create the No Place for Poverty coalition, and we lobbied successfully to have the government produce an anti-poverty strategy, which I was appointed to take part in. At the same time we were able to set up a fund for grassroots anti-poverty work. That has been my most recent life. My reporting career was all about resource development – minerals, oil and gas. I feel like I have the big picture as well as the street-level picture. I want to run because I see the needs in Yellowknife are greater than they've ever been before. The downtown is a difficult place to live in and work at the moment because of the size of the homeless population, and there are ripple effects from that, to do with businesses decided to relocate. A general malaise has fallen over the place. You may say this is a city council issue but the provision of housing and social services is a territorial issue. That also points to the fact that we need a plan that brings all levels of government to the table.
Let's carry on with this theme – it's top of your list of priorities. You talk about a plan. If we were to look four years down the road, how would you like to have seen the situation change?
What I've seen in Medicine Hat is that they developed a community housing association. In five years, they reduced their street homeless population by 72 percent. In four years I would like to say that there are only a handful of people living on the street, and the rest of them have some kind of accommodation with appropriate supports that enables them to stabilize their situation. I really see this as an investment in realizing people's full potential and take away the traffic that goes to the police, the courts, the emergency rooms, of homeless people who use those services disproportionately.
Where is the money coming from for all of this?
I have a lot of hope pinned on the new Liberal government in Ottawa. They had a very strong housing platform and are committing $2 billion to what they call social infrastructure, which includes things like housing. We're very underserved by housing here and we need a special investment to bring ourselves back level with the amount of housing required, not just by people on the streets but people on social housing waiting lists.
Many people have an ambition to be less reliant on the federal government in future, and for the NWT to pay its own way as best it can. That means revitalizing our economy. How do you foresee the territory doing that?
We are in a slump now and that's going to continue for some time. Investment is down in exploration. We have no deposits except for Gaucho Kue that are about to come online. Mining companies are finding it extremely difficult to raise money. It's a slump in commodity prices. We need to look at smaller-scale diversification – for example, there are good numbers of jobs associated with the forestry industry, cutting wood and using it as wood or turning the sawdust into pellets. I'm interested in putting more money into the other sustainable economies like tourism, trapping, arts and crafts; into gathering berries and plants, and so on. They all sound very minor but they would employ a couple of people who pay taxes – they wouldn't generate the wealth that the mines do but they would give people viable and sustainable employment.
A few of the options you mention there also hint at decentralization, moving jobs out of Yellowknife but keeping them in the NWT. Is that something you support?
I don't think there's any choice. If you live in Yellowknife, you're not going to have a biomass industry. I don't see that kind of diversification as a loss. Fort Providence doesn't have a ton of sources of income so if they can get a pellet mill and make a go of that, good for them. In Yellowknife we have more employment options as a service centre.
Fracking – how would you want to approach it in the years to come?
My top priority is to have the federal government fund a regional water study, so people are fully aware of the quantity and quality of water on a regional basis in the Sahtu. Then they can make informed decisions about whether they want fracking and have enough water to support fracking. The territory as the regulator needs to put some effort into revising the regulations published earlier this year, making them stronger, particularly in accountability and oversight, so there's confidence that the government knows how to monitor this industry.
Health – we've touched on homelessness, which speaks to issues like mental health and addictions. Where would you like to see the health portfolio taken in the four years hence?
A lot of what's going to happen with health is driven by the redevelopment of Stanton Hospital, an enormous project which will develop new kinds of analysis, diagnosis and treatment. The thing people tell me they're missing most is on-the-land treatment for addictions. There's no question that on-the-land treatment works but where it falls down is that it hasn't included whole families – where the person who is the addict has the benefit of the healing, but so does his or her family. The other place we've fallen down is we haven't provided enough aftercare to people. They've gone through detox and are doing well, but they're dropped into the situation they've left and the chances of relapsing are very good.
Is the hospital good value for money?
It's hard to tell. The government did make commitments to make the tendering process transparent but unfortunately none of that information has been made public. Unless you're a member of cabinet it's very difficult to say if it's value for money.
Could you change government transparency as an MLA?
We need a broad public conversation on accountability and consensus government. There's an appetite for that now. People see the system as somewhat dysfunctional – it doesn't mean it needs to get thrown out and replaced, it needs to be tinkered with. There needs to be some conversation about what's wrong with it. In Nunavut they had a review of cabinet by the other MLAs, to decide whether they'd been effective, and one of the cabinet ministers did not make the cut. That may enhance accountability – you don't have to wait four years for change.
So you, as an MLA, would welcome the opportunity to have a review like that?
I'd certainly welcome the opportunity to have a review of the consensus government system with broad public consultation.
Well, let's have a review of the territorial government now. We've got a premier and we've got a cabinet. Who makes the cut?
Glen Abernethy has done a great job in health. He's done some difficult things and he's always out there explaining them, that's really useful. I don't always agree with everything Dave Ramsay has to say, but you can't argue with his passion for doing the job. The whole cabinet brought us Devolution, which has been long asked for in the NWT. Even though I've criticized them for their remote and executive style of government, I think it's a mixed bag. Some are performing very well, some not as well.
Would you support a second term for Premier Bob McLeod?
I'd like to see what the options are before I commit to that. I don't have a problem, on the face of it.
I want to talk education, briefly. How do you see Aurora College developing as an institution?
I don't see Aurora College developing very much. The money is tight at this point in the budget and it's going to the Stanton Hospital renewal. I recognize there is a desire to have a larger building and offer more programming, which I completely support. I'm not sure, economically, it's feasible to do that in this next assembly given the fiscal situation is very limited and the money has been allocated to Stanton.
Why do you believe you, and not Robert Hawkins, are the best choice for the people of Yellowknife Centre?
Robert Hawkins has had that job for 12 years. In that time he has not been able to enter into cabinet, he has not been in a decision-making role, he has not delivered on issues that need to be addressed downtown. I feel that I will have more success at that because of my experience and background. It's time for a change and a new approach to the downtown, and I'm not sure that a three-term MLA is capable of change at this point. You can have something new or something you know. That's the choice at this election.
Do you need to be in cabinet to be an effective MLA?
That's where you are most effective. If the MLAs could work more collaboratively and use their power, since they are the majority, they could make the government more accountable than it is now.
---
Robert Hawkins
In the past four years, what do you feel have been your biggest successes as an MLA?
My favourite thing was we passed the missing and murdered Aboriginal and Indigenous women motion a year ago. To me it was very important. It's personal. I've known people on that list and it touches al to of people. I authored that option and was really excited about it. Our Premier sent it across Canada to other premiers. That was an important step.
I was able to get money in our capital budget for schools – Mildred Hall and JH Sissons. Those two schools have been, in my opinion, neglected for years. JH Sissons is one of the oldest schools on our books that has never been renovated in its history. Mildred Hall received some renovations but they were never completed. I've supported growth downtown – I was excited with the reinvention of day shelter two-point-oh. To me it was always very important that we had programs that came into the day shelter. It was great when I fought to get the day shelter to begin, and thy did, so I call that day shelter one-oint-oh. But the next step had to be programs and services and I'm really excited that the second phase has done this. The next phase, I think, is a matter of time – linking to futures for people. Providing them with housing, getting them into treatment and jobs. I've been working with the business community to talk about that. There's some really exciting things on our doorstep, just months away.
How do you believe, in future, the territorial government can deal with some of the social issues in Yellowknife Centre and in the territory more broadly?
If we specifically talk about homelessness – and addictions, since we cannot forget the next pillar, mental health – the homeless situation isn't just in Yellowknife. It's become ab burden that the city has carried but I wonder why we haven't reached out to partner with other community governments. When I've talked to folks on the street who are homeless, they don't identify Yellowknife as their home. Many want to go home but the problem is they don't have a way to get there and nowhere to go to. That's why they come to Yellowknife and part of the reason they're stuck here. Why aren't we partnering with the Aboriginal governments? These are folks we can help tie in to opportunities. People want to go home, to be connected with family, with cultural regions and with folks that speak their language. It's not about making people go back. It's creating the opportunity and fostering that. So instead of spending millions and millions of dollars tackling the problem… we're not the only player. Many hands make light work.
As far as addictions and mental health, we have to surround people with opportunities – great programs working across Canada. The federal government puts in $119 million annually to Housing First, and we should be tapping in to that. If you get people into housing, you can chip away at their addictions and mental health. Justice needs drop. Showing up at the hospital problems drop. We have to start looking at this as a package problem and ask why we are doing it alone. Let's reach out for help.
I want to quickly talk consensus government. Some residents feel as though the regular MLAs really don't work together as they could, sometimes. Why is that so hard?
That's an easy question to answer. The problem is that in a typical government across Canada, we have parties with a unified voice. But in the NWT we elect individual MLAs by themselves. Then they go into a room and select a group of seven people who've all decided they are one team. Unfortunately, the 11 other people don't come together as one team because they represent individual community interests and it's difficult to tie us together. A lot has to change on how we view community problems and how the community MLAs work with big city problems. I've had incredible working relations with our Aboriginal and community MLAs, that's one of my strengths. I couldn't have gotten money for Mildred Hall and JH Sissons without working with my community MLAs and explaining how important it is. I asked them: What's your need? Can you work with mine as well? The challenge is to strip away saying, 'This is mine, that's yours.' How do you both win? That's where my strength is. It's worked well for 12 years.
You had a bid in to become the Liberal candidate in the federal election. How are you convincing people when you go door-to-door that your focus is still on this job?
You're the first to bring this up. I believe in community service. I get up every morning thinking, 'How do I help families? Residents? Northerners? My neighbours?" I think about this every day. People ask me to help and I help them. I'm helping everybody. I will make the time. I had ambition in the spring and I considered other options but my heart is in Yellowknife and I believe in the NWT. Maybe that's a future page I'll look at down the road. I don't know where life will take me. Right now, I'm excited to be in the city, to be the MLA for the next term. I can't wait to get back to work. I get involved. I don't sit behind a computer, I go to meet people at their house, I'll go to the hospital and talk to families with mental health and addictions issues, because it's so important. I'm willing to roll up my sleeves. Heck, last night when I was door knocking, I was fixing a leaky sink for somebody. They said, 'No, you're too busy.' I took my jacket and shoes off and I crawled under the sink to fix the leak. It's crazy but that's the stuff I do. There's no lifting too light or too heavy.
Hard to understand, having heard that anecdote, how low water levels could still be a problem in the NWT. Speaking of which, the old debate between economy and environment: fracking is a part, exploration, many other factors. What do you believe is the first thing the territory should do to increase investment and revenue without compromising the environment?
Let's start with the fracking issue. I really wanted a territorial plebiscite. We weren't getting the info out to northerners. People are concerned and they want to be involved in the future. I tried to propose a plebiscite to let every northerner cast a ballot. I would have asked for a pause to get people more time so they could be involved. There have been cases where it's been successful. A lot of people are nervous and they want to know more. There are risks and certainly benefits to any industry. It scares me and scares northerners – are we making choices in the absence of information for the next folks to suffer with?
As far as mining, I very much support mining. Mining and oil and gas brought in $1.1 billion last year. It's so critical that we find and support industries that make a difference. That isn't easy to replace. We should expand our telecoms industry. We're putting in the Mackenzie Valley fibre-optic link to connect the NWT to the world. We should be having our young people involved in learning new technologies. The second thing is Aurora College. I believe the college is squeezed into the space at Northern United Place. If we thought long-term, we'd say we have to let it get out, stand alone and grow. The social work diploma is two years. Students want to take a four-year program but there's no space. What do we do? I've identified the Bellanca building, possibly. It'd be downtown, close to residents and NUP. Some folks will be worried about the NUP: we could turn that old space into residential space. The NWT Housing Corp would be at the table immediately. There would be really no fundamental change but colleges and unis generate enormous economic opportunity. We could attract more students, keep our northern students local and provide housing opportunities.
You're passionate about this. Do you believe it's a bigger priority, off the bat, than early childhood education?
We need better early intervention for kids to get them up and running and participate fully in school. That's their health, interaction and socialization. There are so many components. They were trying to solve a non-daycare issues in some communities and came up with an idea to solve everything but it never bridged into money. So places like Yellowknife were being penalized. If you include kindergarten, that's 13 years but the department wouldn't fund the additional year of education – they asked our school boards to run 14 years of schooling with 13 years of funding. I've heard every MLA say the same thing: give them the money they deserve and they can run the programming. They were going to lose teachers, it was going to create havoc when it came to space. So yes, that's important. Aurora College is important as an education and economic driver. There's huge opportunity for everybody.
Lastly, if there are other issues close to your heart, the floor is yours.
This election, I've been hearing two things: a choice election where people are looking at going with experience or someone without experience. When I knock on doors, they say my experience around the cost of living issue is so critical. They've seen me on the front line, forcing government to open up the franchise agreement in Hay River. Cost of living is the number one issue at the door. People can try to distract folks with funny stories and all that but if you can't afford to live here, it makes life miserable. The other aspect is jobs and the economy. Jobs are key to success. I've had enormous support, saying you've got your finger on the right issue, right now. The cost of living factor – by pushing down the power rates we've opened up the franchise. I know the NWT Power Corp has won that. I just believe it in my heart. I haven't been told but I can see they've won that franchise challenge.
The next thing is to bring that to Yellowknife and force that here. The city has to ask why they would just automatically renew ATCO's franchise agreement without going out to public competition. Frankly, I was no friend of ATCO I can tell you. I wasn't very popular but I looked them in the eye and said I'm not afraid of you. I work for the people of Yellowknife, the constituents of Yellowknife Centre and all northerners. Lowering the cost of power will help everyday families get by. I'm not afraid of them, I'm more concerned about the everyday people trying to make their bills, get through their day and try to get through their month, paycheque to paycheque. That's all that matters to me.