An 11 x 3.5 metre, 4.98 gross tonnes, rigid hull inflatable vessel sits in front of the Northern Heritage Centre this morning.
At 10:00 a.m. on May 30, 2023, the RCMP christened the newest patrol vessel, 'Munaqsikput' or "Our Watcher" in Inuvialuktun. The vessel is an ocean-going boat with 1600 litre capacity, allowing for an extended patrol range.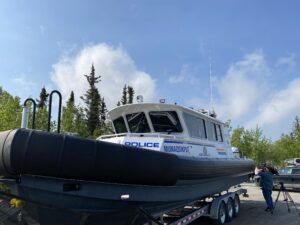 "This vessel will allow our members to patrol farther, and respond with increased speed due to her specifications." G Division Commanding Officer Sydney 'Syd' Lecky said at the event.
According to the RCMP, Munaqsikput can be deployed from larger Canadian Coast Guard and Canadian Armed Forces vessels as part of a unified approach to Arctic sovereignty.
The operation will make Tuktoyaktuk its home base with Munaqsikput making summer patrols of the area from July 24 to September 15 annually.
Munaqsikput will be stored in Yellowknife and will make annual patrols on Great Slave Lake in addition to its northern summer routes.