YKDFN's annual spring carnival kicked off today with a fishing derby featuring a $4000 first place prize.
5 entries were submitted and fish weighed between 2-10lbs.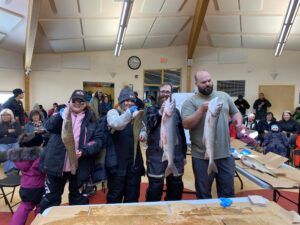 "It's super exciting I believe 80 people signed up for the fishing derby this morning so it's been a really good turnout." Recreation Coordinator Theresa Lynn told MyTrueNorthNow.
The day concluded with a feed the fire ceremony where the fish caught were cooked for attendees and a mini hand games tournament with a $2250 first place prize.