The GNWT, Indigenous governments, and Indigenous organizations of the Northwest Territories have reached two milestones in the GNWT's 2019-2023 commitment to adopt the United Nations Declaration on the Rights of Indigenous Peoples (UN Declaration).
On March 29, 2023, the GNWT introduced the proposal in the Legislative Assembly.
The act aims to formalize the programs and ideas that the GNWT plans to use to ensure future laws, regulations, and policies are consistent with the human rights outlined in the declaration.
Following the first reading, Premier Caroline Cochrane held a press conference with Indigenous leaders to discuss the importance of the act.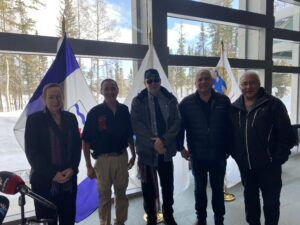 "The GNWT is committed to working in partnership with Indigenous governments to implement the UN Declaration based on the principles of justice, democracy, and respect for human rights." Premier Cochrane said in the conference.
The Premier as well as VP of the North Slave Métis Alliance Marc Whitford also spoke on the importance of the declaration from a reconciliation perspective.
"Reconciliation is not just about saying I want to do better, this (UN Declaration) actually puts concrete steps, because I can say things, but unless I have something concrete to show for it, then they're just words," Cochrane told MyTrueNorthNow.
"Reconciliation is not about telling Indigenous people what it is, it's about Indigenous people telling public governments what it is," Cochrane added.
After the passing of the declaration, the GNWT has developed an initial five-year action plan that will review the GNWT's policies to ensure legislation is consistent with the declaration.