The days may be warmer, but the ice is still strong, and Air Tindi has set up a fun little attraction for Yellowknife residents.
On Saturday, March 18th, Air Tindi announced the official opening of a community ice rink set up at their floatbase landing site, which is normally used for landing water and ski planes during the summer and winter.
Chris Reynolds, the President of Air Tindi, said that the idea was simply pitched to him and he decided they would go ahead and do it. He also shared that there are no fees or admissions of any kind.
"It's definitely just a way to get people out and active. Our winters are long, so it's important for the kids especially to be out and doing things, so that's why we got it together."
Reynolds added that it took hundreds of hours for construction of the rink.
At the site, visitors will find a small bathroom, and a tent for skaters to take a break in and stay warm. Reynolds said that skaters are welcome to bring out any hockey or other skating equipment if they wish.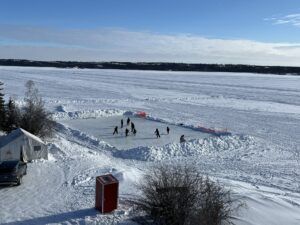 Reynolds finished by saying they have no events planned at the moment, but that he wouldn't be surprised if they do end up hosting a small hockey tournament. Reynolds also suggested that if this rink becomes popular, they could very well make it an annual practice.