United Way NWT is once again putting on a special event for International Women's Day.
From March 6th -11th , the United Way NWT will be collecting menstrual products in the NWT to help those who are experiencing period poverty.
An event, known as Tampon Tuesday, is an annual campaign hosted by many United Ways across Canada. This began in 2009 in London, Ontario and is focused on providing tampons and other menstrual products to people who are unable to purchase these items due to financial constraints.
It is estimated that around 500 million people around the world experience Period Poverty. Amber Henry, the Campaign Coordinator and Administrator for United Way NWT, helped to explain what Period Poverty is.
"It is a term used to describe people who, quite simply put, have to make the choice between buying food or tampons. Obviously usually food gets chosen and this means then that people aren't able to go to work or they miss school or they miss out on social activities every month which puts them further behind."
Menstrual products are accepted items at food bank donations. They are often the most requested, yet least donated item.
This will be the second year that United Way NWT has run this event. In 2022, they partnered with the Yellowknife Co-op and Sutherland's Drugs as drop off points. With the help of Northern residents United Way NWT was able to collect over 400 packages of hygiene products and $1,200 in donations. These were distributed to non-profits in Yellowknife, Hay River, Aklavik, Fort Smith, Fort Good Hope, Inuvik and Tuktoyaktuk.
Amber shared what encouraged United Way to start running this program in the North.
"Honestly, the inspiration came from seeing other United Ways doing this For us wanting to get involved, it felt like a really exciting opportunity to show the north that we can give back, and to show that there are other ways to give back that are more accessible."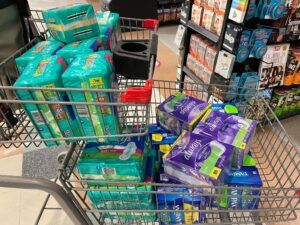 There will be three drop off boxes set up around Yellowknife. One will be at the Yellowknife Co-op, and will be open all year round. The other two will be at Sutherland Drugs from March 6th to the 11th, and at the Trailblazers Symposium at the Explorer Hotel. that location will only be open on March 8th.
United Way NWT is also looking for volunteers to become Collection Champions. Anyone who wishes to join and help out can contact [email protected] for more details.