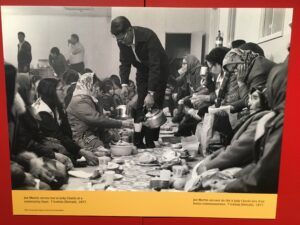 With a growing embrace of northern food and culture in Yellowknife, northerners can take a peek into what northern food has meant to Yellowknife in the past through a photo exhibit put on by Yellowknife's city archive.
"What we have in the north is something truly unique…"
Erin Suliack is an archivist for the Prince of Wales Northern Heritage Centre in Yellowknife and was given the opportunity to put together a photo exhibit, and through discussion with other archivists decided that the food in Yellowknife and throughout the Northwest Territories is worth putting on display: "What we have in the north is something truly unique and we wanted to celebrate that."
The temporary exhibit features over eighty years of photo history in Yellowknife carefully cultivated by Suliack and her team from over 600,000 photos in the archive, which Suliack refers to as "…One of the jewels of the north."
According to Suliack, the photos were chosen to represent and demonstrate the many ways that northerners have gathered, prepared and enjoyed food throughout history, and how the current generation continues to cling to these rich cultural traditions.
The exhibit is available from Tuesday to Sunday from 10:00 a.m. to 5:00 p.m. until June 2023.