A tasty new exhibit has come to Yellowknife's Prince of Wales Heritage Centre.
Titled "Delicious!", this exhibit features archival photographs from the NWT Archive spanning over 80 years and demonstrates the many ways that northerners gather, prepare and enjoy many types of food.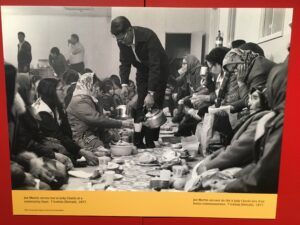 Guests were able to snack on some freshly made bannock and tea as they watched some local experts display the traditional methods of preparing fish. A small tent was set up just outside of the heritage centre, where guests could also sample a hot bowl of fish soup.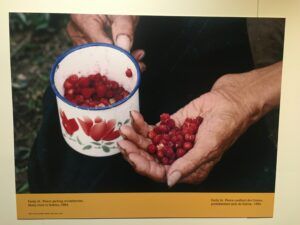 The wall along the upper walkway of the Heritage Centre was filled with various images from the Yellowknife Archives, showing some of the history of cooking in the north. The images were from as early as the 1910's, and showed things like the collection of birch sap to use for syrup, a drying rack full of Beluga whale skin and blubber, and Caribou meat loaded onto a plane after a community hunt, among other images.
Stacey Songbird, an Indigenous woman who helped to open the exhibit, shared how it felt to her to see so many people take an interest in this subject. Stacey's auntie was also present as one of the presenters showing how to properly prepare fish.
"I think it's really good. Our young people really need education about the northern foods that we've always had around since our ancestors and elders have lived in this area as the Weledeh people. I try to incorporate my family because it's different generations, so she's a generation that obviously knows all this stuff from her mom and grandmother."
She went on to express what an important learning opportunity this exhibit can be for younger generations to learn about those that came before them.
Stacey also commented on the importance of the images that were displayed from the Yellowknife Archives.
"Bringing all those photos back shows how we don't cook and prepare some of the traditional foods today. We either lost it or forgot it, or not practicing it, so bringing those old-timer ways of preparing fish, preparing wild meat and bringing it to this generation, and bringing traditional knowledge back to our community, back to our young people, and learning along the way."
The Delicious! exhibit will be open every Thursday over the lunch hour until March 2nd. The Heritage Centre will be presenting special meals made from rabbit, ptarmigan, muskrat, and a bannock buffet.