A classic Yellowknife musical performance is making a return after several years of delays.
The NWT Pipe Band will be bringing back their annual Robert Burns Dinner & Dance on January 28th at the Elks Hall. The Pipe Band has been running this event for the last 45 years, though they had to call it off in the last two years due to COVID-19 restrictions. The event is considered a celebration of Scottish culture, though the band has clarified that one does not need to be Scottish to come and enjoy the show.
Brad Heath, a member of the band, shared that guests can expect a traditional Burns Night dinner, which consists of roast beef, haggis, gravy, mashed potatoes, and a desert of shortbread. Dinner will be followed by various performances by the NWT Pipe Band, including demonstrations of Highland Dancing, and a chance for members of the audience to try out some Scottish Country Dancing, which Heath says is similar to Square Dancing.
Heath explained that he and the rest of the band are excited to have this event make a comeback.
"We really missed it. We did an online version with just band members the last couple years, so obviously nowhere near as much fun as having the hall full of people and getting to play our pipes and drums. We've been practicing hard for months."
The NWT Pipe Band has not been totally out of work in the last few years. Heath shared that they were able to perform at the Canada Day Parade, and at Yellowknife's Remembrance Day service. There have also been smaller performances here and there, but nowhere near as many as they would have in a normal year.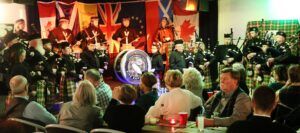 The Robert Burns Dinner and Dance is also one of the only times that the Pipe Band is able to raise money, so things have been tight for them since 2020. Heath shared what they spend the money on.
"The money goes to help us on upkeep of our uniforms and purchasing new items such as kilts and jackets. A kilt basically runs about a thousand dollars, because we have to have the tartan, and we wear the official NWT tartan so we actually have to get that manufactured ourselves in Scotland, then shipped to the company in Ontario that makes our kilts. So it's pretty expensive to get a kilt made."
Some of the money raised at Burns Night also goes towards piping and drumming workshops with instructors from southern Canada.
The band is expecting a good turnout for this year's event, with around 150 seats available in the Elk's Hall, and only a handful of tickets remaining. Tickets can be purchased from Floyd Adlem at 867-444-3119.